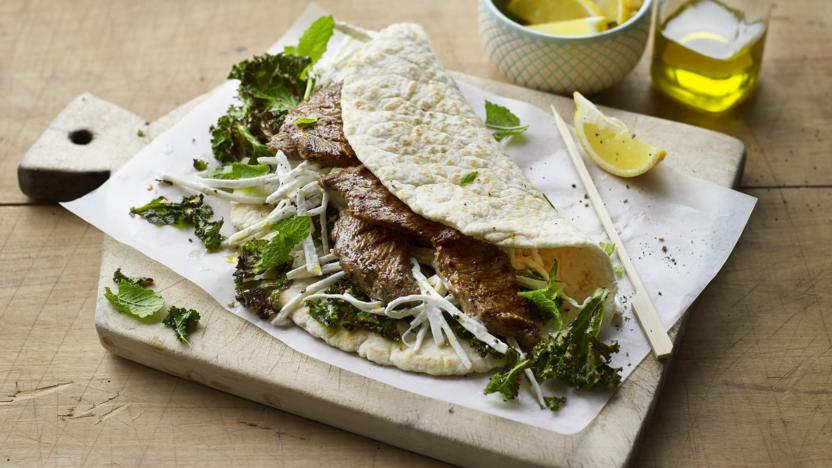 A delicious Greek-style lamb kebab, served with British winter veg – celeriac slaw and crispy chilli kale – all inside a homemade flatbread.


Ingredients
For the celeriac slaw
For the crispy kale
For the flatbread
For the lamb
Method
Preheat the oven to 220C/200C Fan/Gas 7.

To make the celeriac slaw, mix the celeriac with the yoghurt, garlic, cumin and lemon juice. Season with a little salt and pepper. Set aside.

To make the crispy kale, put the kale in a bowl and toss with the oil, chillies, salt and pepper. Scatter over a baking tray and roast for 6–7 minutes, or until crisp. Keep a close eye on it so it doesn't burn.

To make the flatbread, mix the self-raising flour and salt in a large bowl. Add the yoghurt and mix with a spoon and then use your hands to form a ball. Turn out onto a lightly floured surface and knead for a few seconds to make a smooth elastic dough. Divide into two portions and roll into balls. Using a floured rolling pin, roll each portion into a 25cm/10in round, turning regularly.

Place a large ovenproof frying pan over a high heat. Cook a flatbread for 1½–2 minutes, then flip over and cook for a further 2 minutes, or until puffed up and lightly browned. Keep the first flatbread warm, covered in a clean tea towel, while you cook the second one.

Heat a medium frying pan, or griddle, over a high heat. Put the lamb into a bowl and toss with the oil, cumin, salt and a grinding of black pepper. Cook the lamb for just 1–2 minutes on each side in the hot pan, or until crispy on the outside but still juicy inside.

Fill the flatbreads with the celeriac slaw, crispy kale and lamb, then sprinkle with the mint. Drizzle with a little olive oil and roll the bread around the filling. Secure each one with a skewer or wrap one end with foil. Eat while hot.
This recipe is from...
Recipes from this episode