This hearty meat pie is served with a light and crisp carrot, fennel and mustard salad.



Ingredients
For the lamb shoulder pie filling
For the pastry
For the carrot, fennel and mustard salad
Method
To make the lamb shoulder pie filling, preheat the oven to 160C/140C Fan/Gas 3.

Season the lamb shoulder well with salt and freshly ground black pepper and place the vegetables, bay, rosemary and garlic in a roasting tin large enough to hold the lamb shoulder. Place the lamb shoulder on top and pour over the vinegar, wine and tomato puree. Add the stock then wrap tightly with kitchen foil and roast for around 5 hours, or until the meat is soft and falling off the bone. Check that there is still some liquid in the pan halfway through cooking.

To make the pastry, blend the butter, salt and flour in a food processor. Remove the pastry from the food processor, knead lightly on a floured surface to bring together, then wrap and leave in the fridge for at least an hour. When ready to assemble, roll out to about a 1cm thickness on a clean work surface dusted with flour and line a 25cm/10in pie dish, reserving enough for the lid.

To finish the lamb filling, remove the lamb from the oven and carefully pull the meat off the bone and into bite-sized pieces. Carefully remove the veg from the tin too, making sure everything is cut into small chunks. Reserve the cooking liquor but discard the herbs and garlic.

Increase the oven temperature to 200C/180C Fan/Gas 6. Put the lamb and vegetables into the pastry-lined pie dish.

Taste the liquor and add a little salt or pepper if needed. If it needs thickening, pour into a saucepan and cook until thickened and reduced.

Pour enough liquor into the pie case to cover the meat and vegetables (about 200ml/7fl oz), then roll out the lid to 1cm thickness and brush the edges with egg wash before covering the pie, crimping and trimming the edges. Brush the pie with the egg wash and make a hole in the top for steam to escape. Bake the pie for around 30 minutes, or until golden-brown.

To make the fennel and mustard salad, mix the fennel, carrot and celeriac together in a bowl.

Make a dressing by mixing the tarragon, mustards, oil and vinegar together in a small bowl, then dress the salad and mix well.

Serve a slice of the pie onto each serving plate alongside the salad.
This recipe is from...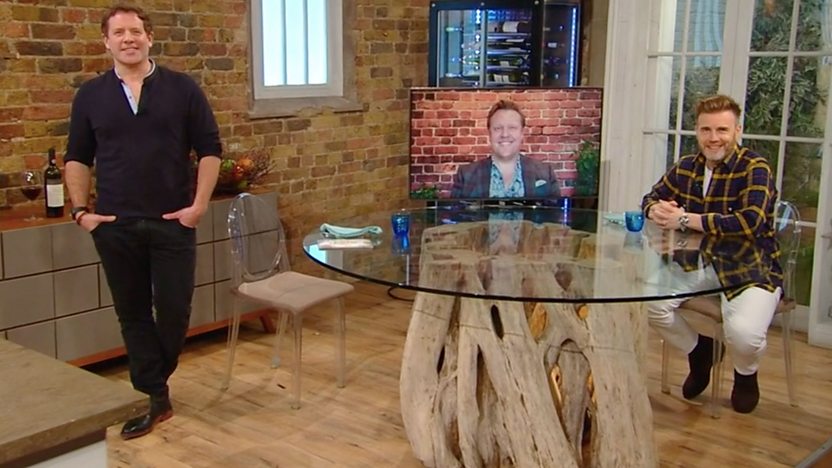 Saturday Kitchen
30/01/2021