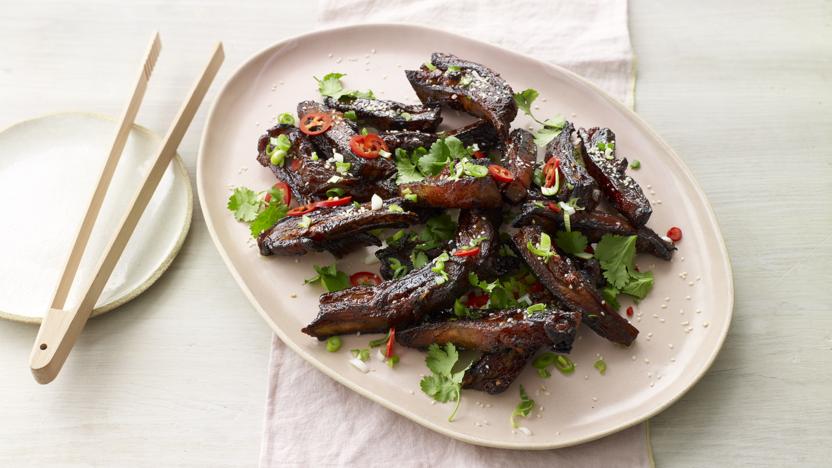 Lamb ribs don't need to be done low and slow like other meat ribs, and the sweet sticky sauce here packs a punch.


Ingredients
For the garnish
Method
Put the ribs into a large saucepan and cover with water. Bring to the boil on a high heat, then turn the heat down to medium until the ribs have cooked through. It takes about 45–50 minutes' simmering to make them tender – this will help reduce the cooking time in the oven and minimise some of the fat around the ribs. Skim off any foam that rises to the top of the water.

While the ribs are boiling, put the sugar and honey into a pan over a medium heat, giving it a stir occasionally. Once the sugar has melted and the caramel is a deep brown colour, take the pan off the heat. Stir in the Worcestershire sauce, balsamic and soy sauce, then add the ginger, garlic powder, coriander and chilli flakes. Stir well and set aside.

Preheat the oven to 220C/200C Fan/Gas 7. Have a roasting tray lined with baking paper ready – this will help avoid having a monumental sticky mess to clear up afterwards.

Once the ribs are tender, take them out of the pan and drain. Pop the ribs into the roasting tray and put them into the oven for 10 minutes.

Remove the ribs from the oven and brush the sticky glaze on top, making sure to cover every crevice. Get ready to stare into the oven for another 10 minutes, basting the ribs halfway through.

For the garnish, mix the spring onions, sesame seeds, coriander and chilli in a bowl. As soon as those ribs are out, get them into a serving dish. Sprinkle over the garnish and eat straight away.