Butterflied leg of lamb with a sticky rhubarb glaze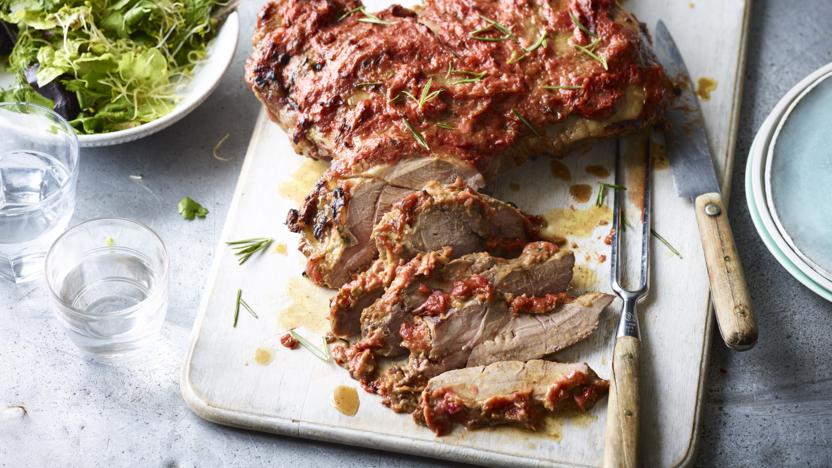 A butterflied leg of lamb is basically a leg of lamb with the bone taken out, which makes it easier to cook and easier to carve as there's no bone to cut around. Perfect for the oven and even better on the barbecue.


Ingredients
whole leg of lamb, about 1kg/2lb 4oz butterflied (ask a butcher to do this)
oil, for coating
2 tbsp salt
For the rhubarb glaze
Method
Start by preheating the oven to 180C/160C/Gas 4. If the leg of lamb is thicker in places, lay it on a board and make vertical slices, then open it up. This will help it to cook evenly.

Put the lamb into a large roasting dish. Drizzle over the oil and be generous – cover both sides. Sprinkle over the salt and, again, be generous.

Pop it into the oven for 40 minutes if you like the meat medium, or 30 minutes if you prefer it pink.

Meanwhile, for the rhubarb glaze, melt the butter in a pan. Add the rosemary and garlic and cook on a high heat for just a few minutes. Lower the heat to medium and add the rhubarb, salt, honey and chilli powder, then stir.

Increase the heat slightly and mix occasionally. As it cooks it should resemble lava bubbling. You need to cook this for about 30–40 minutes until you have a rich, deep paste. If it starts to stick, just lower the heat and stir frequently. If you have a particularly tart batch of rhubarb you may like to add an extra 1–2 tablespoons of honey.

Once the leg of lamb has been in the oven for the required cooking time, remove it. If there is any liquid in the base of the roasting dish, carefully drain it off.

Brush the glaze all over the top and base of the meat, and leave it fatside up to finish cooking.

Once it has cooked for a further 20 minutes, take it out and leave to rest for at least 15 minutes before eating.
Recipe Tips
Alternatively, you can barbecue the butterflied lamb. Once the coals are hot enough, put the seasoned and oiled lamb on to the barbecue, fat-side down, and cook on a high heat for 5 minutes until well browned. Turn over and cook on the other side for 5 minutes to brown the other side too.
Now move the coals from the centre to around the edges of the barbecue and leave the meat to cook, covered, for 30–40 minutes, brushing with the glaze 20 minutes before the end of the cooking time and turning occasionally if you need to. Take the lamb off the barbecue, cover it with foil and leave to rest for 15 minutes, undisturbed. By which time it is ready to slice and eat.
This recipe is from...
Recipes from this episode