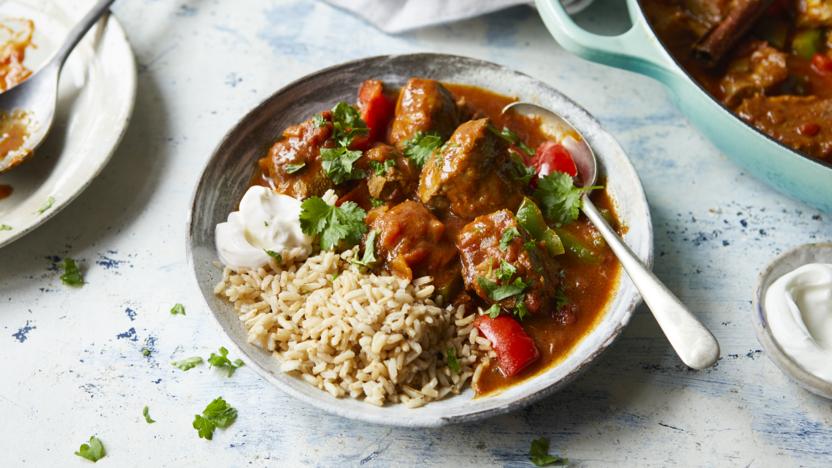 Neck of lamb is a great cut of meat to use in this easy lamb curry as it has a rich taste and cooks quickly for a shortcut slow-braised curry that's worth every calorie.

Each serving provides 752 kcal, 56g protein, 52g carbohydrate, 34g fat, 6g fibre.
Method
Heat the oil in a large, heavy-based saucepan over a high heat. Add the onions and cook for 10–15 minutes, until starting to turn dark golden. (Add a splash of the stock if they start to catch.)

Add the cardamom, cinnamon, cloves, garlic and ginger and cook for 2 minutes. Stir in the ground spices, along with a big pinch of salt and pepper to taste, and cook for 30 seconds until fragrant.

Pour in the stock and tomatoes and bring to a gentle simmer. Add the lamb and stir. Cover and cook over a low heat for 40 minutes, stirring occasionally.

Add the peppers to the curry, turn up the heat and cook for 10–15 minutes with the lid off, until the pepper are slightly softened and the sauce is reduced. If using pouches of rice, heat up according to the packet instructions.

Serve the curry and rice in warmed bowls with a dollop of yoghurt on the side. Garnish with a scattering of coriander.
Recipe Tips
Allow the bhuna to cool then freeze in portions. Defrost fully overnight in the fridge, then reheat in a saucepan over a medium heat until hot all the way through.
This recipe is from...
Recipes from this episode