Lamb tagine with chickpeas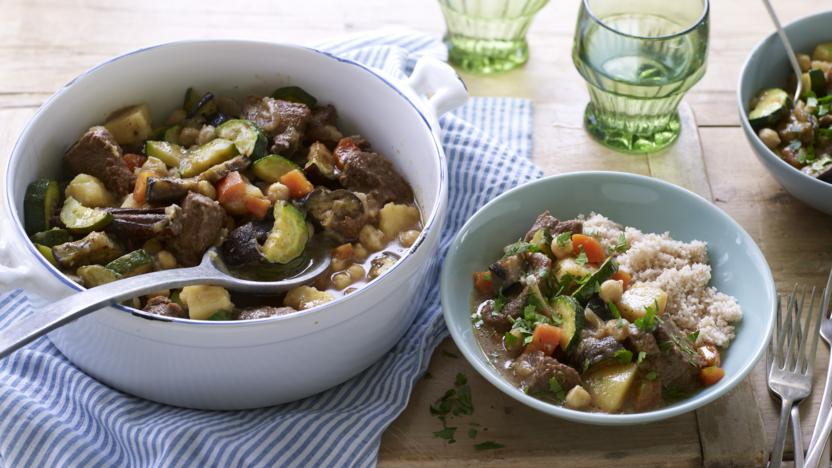 Take your time to make this tender, slow-cooked lamb tagine recipe packed with vegetables and healthy chickpeas. A family favourite!
Ingredients
For the couscous
Method
Rub the lamb with the ginger and cumin and season with about tablespoon flaked sea salt and plenty of black pepper. Place a large casserole over a high heat and add 2 tablespoons oil. Sear the lamb all over, then set aside.

Heat another tablespoon oil in the pan and fry the onion and carrots for 5 minutes, until soft.

Return the lamb to the pan and add the sage, cinnamon and black peppercorns. Pour in the stock. Bring to the boil, then cover and gently simmer for 45 minutes.

Meanwhile, heat 1½ tablespoons oil in a saucepan and fry the courgette over a high heat until coloured and tender. Scoop out with a slotted spoon and put to one side. Add the remaining 1½ tablespoons oil to the pan and fry the aubergine until tender. Remove from the pan and add to the courgette.

Add the potatoes to the lamb and cook for a further 15 minutes.

Finally, stir in the fried courgette and aubergine, and the chickpeas and cook for another 15 minutes.

When ready to serve, make the couscous. Put the couscous in a large, heatproof bowl with the butter. Pour the boiling stock over the top, stir with a fork, then set aside for 5 minutes, or until all the liquid has been absorbed. Transfer to a platter and garnish with the herbs.

Serve the tagine with the couscous.