Lamb and mint pasties with quick apple pickle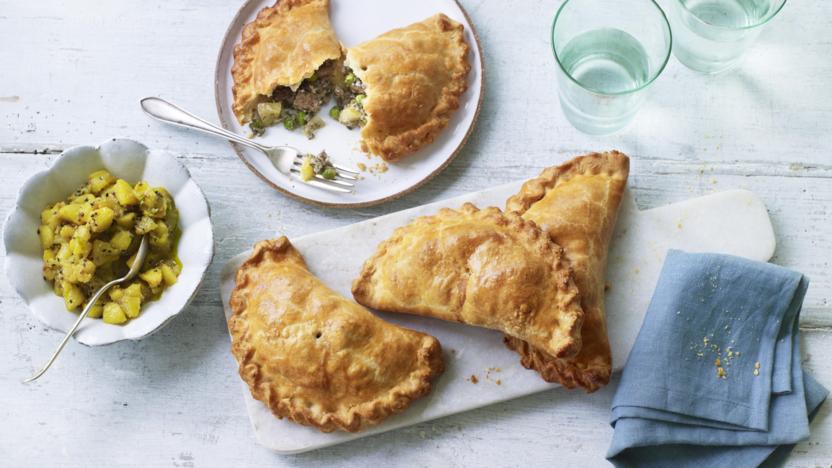 These pasties are one my favourite things to eat, filled with soft baked lamb, potatoes, apples, peas and mint. Perfect for a picnic, accompanied by this aromatic apple pickle.
Ingredients
For the pastry
450g/1lb plain flour, plus extra for dusting
1 tbsp baking powder
½ tsp fine salt
125g/4½oz unsalted butter, chilled and cubed
2 large free-range egg yolks
130ml/4fl oz–140ml/4½fl oz cold water
1 free-range egg, beaten, for brushing
For the filling
300g/10½oz potatoes, cut into 1cm/½in cubes
150g/5½oz frozen peas, defrosted and drained
1 onion, finely chopped
2 small green apples, peeled, cored and cut into 1cm/½in cubes
300g/10½oz boneless lamb (ideally leg), cut into 1cm/½in cubes
2 tbsp dried mint
1 tsp fine sea salt
40g/1½oz butter
2 tbsp plain flour
For the apple pickle
Method
To make the pastry, put the flour, baking powder and salt in a large bowl and mix. Rub in the butter using your fingertips until the mixture resembles breadcrumbs.

Add the egg yolks and stir using a palette knife. Add the water a little at a time, still mixing with your palette knife. You may not need all the water, so add it gradually until the dough just starts to come together. Bring the dough together with your hands. Flatten the pastry and wrap it in cling film, then put it in the fridge for 1 hour to chill.

To make the filling, put the potatoes, peas, onion, apples, lamb, mint and salt in a large bowl and mix well. Melt the butter over a low heat and pour in, then add the flour and mix.

Preheat the oven to 180C/160C Fan/Gas 4 and line two baking trays with baking paper.

Roll the pastry out on a lightly floured work surface to a thickness of 3–4mm. Cut around an 18cm/7in dinner plate with a sharp knife to create six pastry circles. If they shrink a little after cutting, gently re-roll them.

Place a sixth of the filling on one side of one of the circles. Brush the edge of half the circle with beaten egg, then fold over the other half to make a D shape. Crimp the edge using a fork or the back of a knife. Make a hole in the top to allow some air to escape and place on a lined baking tray. Repeat with the other five circles. Brush with the beaten egg and bake on a baking tray for 50 minutes. Leave to stand for 10 minutes before eating.

Meanwhile, to make the apple pickle, put the oil in a saucepan over a low heat. Add the mustard seeds and, as soon as they begin to pop, add the other spices. Cook for a few minutes, being careful not to burn them. Stir in the vinegar, sugar and salt. Add the apples and 200ml/7fl oz water and cook gently for 20 minutes, or until they have mostly broken down. Leave to cool in the pan.

Serve the pasties with the pickle. Any leftover pickle can be stored in a clean jar in the fridge for up to a month.
This recipe is from...
Recipes from this episode