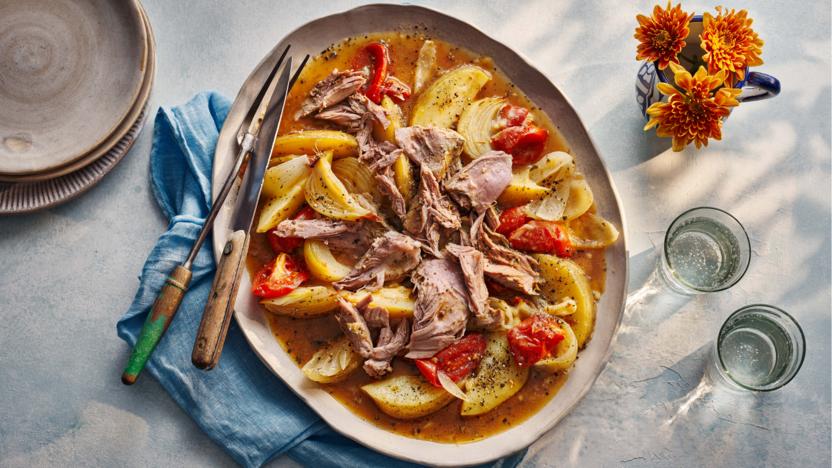 Kleftiko is a simple, classic Greek dish of lamb and potatoes. In Georgina Hayden's recipe the lamb is marinated overnight, then wrapped in baking paper with potatoes, onions and herbs and slow-roasted until the meat is falling off the bone.
Method
Place the lamb in a large dish and drizzle with plenty of olive oil. Season generously and sprinkle over the oregano and bay leaves. Peel two garlic cloves and cut each into four pieces. Using a sharp knife, pierce the lamb eight times and poke in the garlic. Rub the herbs and oil into the lamb, then cover and place in the fridge overnight.

Take the lamb out of the fridge 30 minutes before cooking. Heat the oven to 160C/140C Fan/Gas 3. Line a large roasting tin or baking dish with greaseproof paper, ensuring there is enough of an overhang to crimp the edges (you might need to fold two pieces together lengthways to ensure it is wide enough).

Roughly crush the remaining unpeeled garlic cloves with the flat of a heavy knife. Put the potatoes, onions, tomatoes and garlic in the roasting tin and poke in the cinnamon stick and oregano sprigs, if using.

Put the lamb on top of the veg and spoon over the marinade from the bowl. Squeeze the lemon juice over the lamb and pour the wine into the bottom of the tin. Take another large sheet of greaseproof paper and wet it under running water. Squeeze out excess water and lay over the lamb, crimping the edges of paper together with the pieces underneath to seal completely. Place in the oven and leave it, untouched, for 4½ hours until the lamb is cooked and very tender.

Remove from the oven and leave to rest for 10 minutes, then serve with all the vegetables and juices from the roasting tray.