Kitchari with kedgeree toppings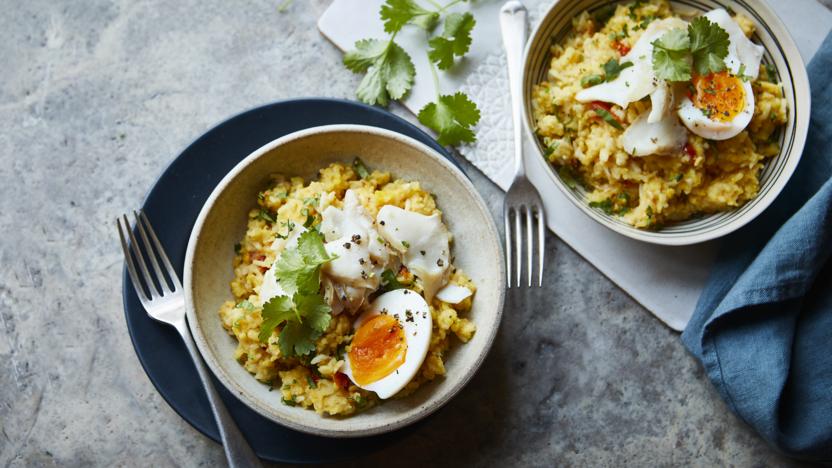 You could call this 'a kitsch brekkie': it's a combination of Indian kitchari – a spicy dish of rice and split pulses – and kedgeree – the British version of the dish, with smoked fish and hard-boiled eggs. It would also make a brilliant midweek supper.
Ingredients
For the kitchari
For the kedgeree toppings
Method
Heat the ghee in a large saucepan over a medium heat. Add the onion and cumin seeds and fry for 8–10 minutes, stirring frequently, until softened.

Add the ginger, chilli and tomatoes and cook for a couple of minutes. Stir in the turmeric and asafoetida and continue to cook, stirring, until the tomatoes have softened.

Add the mung dal and rice and stir well. Pour in 1.7 litres/3 pints water and season well with salt. Bring to the boil, then reduce the heat and cover with a lid. Simmer gently for 25–30 minutes, stirring occasionally, until the beans are cooked and tender. Add more boiling water if necessary – the mixture should be quite wet.

While the rice mixture is cooking, make the kedgeree toppings. Bring a saucepan of water to the boil, lower in the eggs, reduce the heat and simmer for 6–7 minutes. Drain and cool under cold running water. Once cool enough to handle, peel and cut in half or quarters.

Pour the milk into a wide pan and bring to a simmer. Add the smoked haddock and gently poach for 6–8 minutes, turning once, until the fish is cooked and begins to flake. Remove from the poaching liquid and, once cool enough to handle, flake into pieces, removing any bones.

Serve the rice mixture in bowls. Top with the flaked haddock and the eggs. Scatter with coriander and serve with lemon wedges.
This recipe is from...
Recipes from this episode