King prawn and scallop stir fry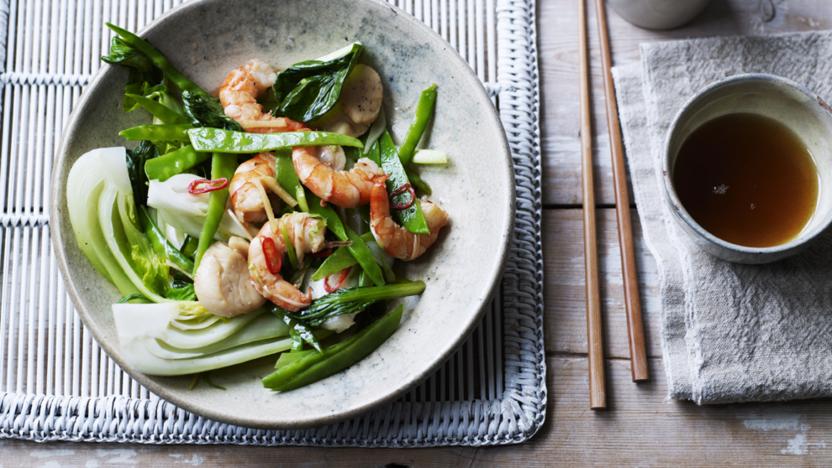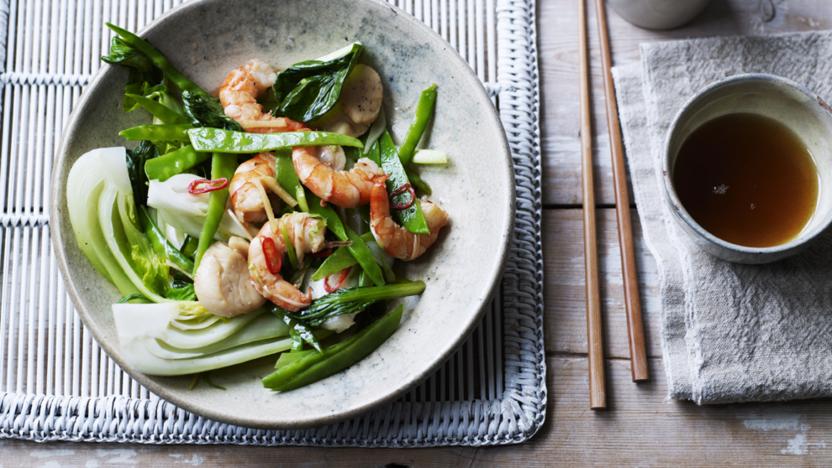 Have you got wok it takes? This superb seafood stir fry is a quick cook, so have all your ingredients prepared before you turn the heat on. Spring onions, garlic and ginger give an authentic Cantonese flavour.
Ingredients
2 tbsp groundnut oil
1 garlic clove, thinly sliced
10g fresh root ginger, cut into matchsticks
6 king prawns, peeled and deveined
3 scallops, each cut in half to make 2 discs (6 discs in total)
sea salt flakes and pepper, to taste
1-1½ tbsp Shaoxing rice wine, to taste
1 spring onion, cut into strips
4 sprigs choi sum, or other Chinese greens
1 pak choi, cut into 4
30g/1oz mangetout, cut in half lengthways on an angle
½ red chilli, thinly sliced on an angle
1-2 tbsp light soy sauce, to taste
1 tsp sesame oil
Method
Heat the groundnut oil in a wok until smoking.

When hot, add the garlic and ginger cook for one minute, or until soft.

Add the prawns to the garlic and ginger, fry for one minute, tossing the wok or stirring the prawns with a spoon a couple of times.

Season the scallops with salt and pepper. Lay the scallops round the edge of the hot wok, to get a little colour on the sides.

Toss the wok or gently turn the seafood over, then add the rice wine.

Add all the prepared vegetables and gently toss until the choi sum and pak choi have slightly wilted - this will take a further couple of minutes

Add the red chilli and light soy sauce, to taste.

Divide the mixture into two bowls and drizzle half a teaspoon of sesame oil over each portion. Serve at once.
Recipe Tips
If you prefer this dish a little thicker, mix together one tablespoon of cornflour with two tablespoons of cold water. Stir this mixture in at the end to thicken.