Kimchi macaroni and cheese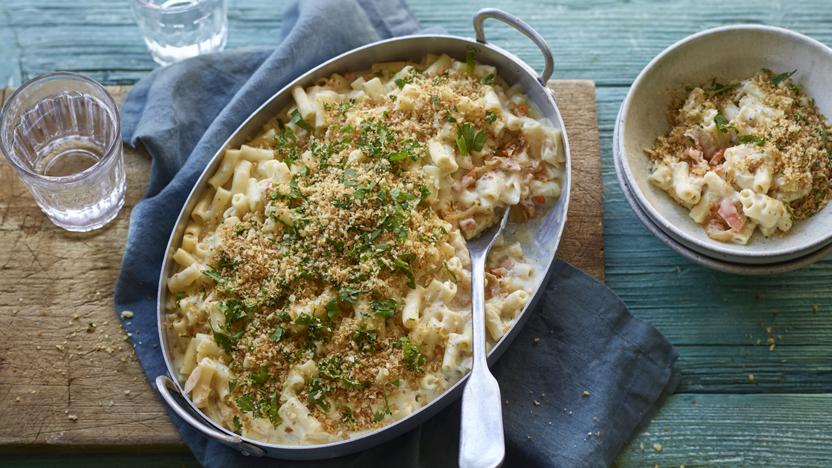 Use homemade or shop-bought kimchi to make this comforting mac 'n' cheese. The kimchi cuts through the richness and delivers a delicious kick.


Ingredients
For the mac and cheese
For the crust
Method
Bring a saucepan of lightly salted water to the boil. Add the macaroni and cook according to packet instructions until al dente. Drain well and set aside.

Melt the butter in a saucepan over a medium heat. Whisk in the flour and cook the mixture for just under 1 minute. Whisk in the milk gradually, making sure to stir well so that no lumps form. Bring the mixture to the boil then reduce the heat and cook for 10–15 minutes until you have a thickened and smooth sauce, whisking constantly.

Remove the sauce from the heat, add the cheeses and cream, and stir until the cheese has melted and everything is well combined. Stir in the kimchi and macaroni and transfer to a large ovenproof dish. Keep warm in the oven.

To make the crust, melt the butter in a non-stick frying pan over a medium heat, then add the breadcrumbs. Keep tossing and stirring until golden. Remove the crumbs from the heat and sprinkle evenly over the mac and cheese, along with the chopped parsley. Serve immediately.