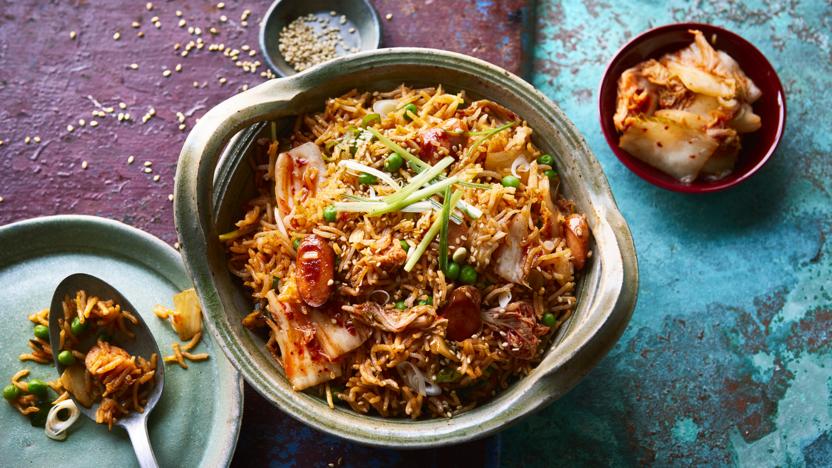 Looking for a simple, tasty dinner? Kimchi fried rice makes great use of store cupboard ingredients and is packed with flavour thanks to a spicy kick from kimchi and gochujang.
Ingredients
For the spicy sauce
Method
Get all your ingredients prepared and lay them out close to the hob. This recipe is cooked quickly and it really helps to have everything close at hand.

To make the sauce, mix all of the ingredients together in a small bowl.

Heat the vegetable oil in a wok over a high heat and, once smoking hot, pour in the beaten egg and swirl around the wok. Stir-fry for 1–2 minutes until crisp but not burnt, then push aside. Add the garlic and ginger, stir-fry for 30 seconds then add the frankfurter. Stir in the kimchi, peas and rice, stir-frying each for 30 seconds before adding the next. Separate out the rice well by pressing into any clumps with a spatula and continue to cook through for 3–4 minutes before pouring the sauce evenly over the rice. Stir-fry for a further 1–2 minutes – once the rice has absorbed all of the liquid, it is ready to be served. Stir in the sesame oil, sprinkle with the sesame seeds and spring onions and serve. If desired, top the rice with a fried egg. If frying the egg in the wok, fry the egg sunny-side up with a crispy base for a bit of added texture.