These kimchi flavoured croquettes would make a great party bite.
Ingredients
For the tomato cream
For the kimchi croquettes
To serve
Method
To make the tomato cream, bring a saucepan of water to the boil and blanch the tomatoes for 2 minutes. Plunge the tomatoes into a bowl of cold water. Peel the tomatoes and remove the seeds then blitz in a blender. Place in a muslin laid in a sieve set over a bowl in the fridge and leave to strain overnight.

Mix the tomato juice with the olive oil and season with salt and pepper. Set aside.

To make the kimchi croquettes, melt the butter in a saucepan over a medium heat until brown. Add the shallots and fry for 10 minutes, then add the flour and cook for a further 10 minutes.

Gradually whisk in the milk and cook over a low heat for 10–20 hours, stirring every 5 minutes or so. Add the kimchi paste and cook for a further 30 minutes. Season with salt and pepper, to taste and blend in a food processor.

Transfer to a baking tray lined with greaseproof paper, cover with more greaseproof paper and place in the fridge for 2 hours to set.

Heat the oil in a deep saucepan to 180C. (CAUTION: hot oil can be dangerous. Do not leave unattended.) and preheat the oven to 220C/200C Fan/Gas 7. Put the wheat starch, eggs and breadcrumbs in three separate wide bowls.

Using two dessertspoons, scoop out portions of the kimchi mixture, each weighing about 20g/¾oz, and drop them into the wheat starch. Mould them with your hands into rough balls and dip each into the beaten egg. Finally, coat each thoroughly in the breadcrumbs. Repeat with the rest of the mixture, then place in the fridge to firm up for 30 minutes.

Deep-fry the croquettes in batches for 1 minute until crisp and lightly golden. Drain on kitchen paper, then place on a baking tray and finish in the oven for 1 minute. Keep warm while you cook the rest. Serve immediately, topped with the salmon, chives, smoked tea powder and tomato cream.
This recipe is from...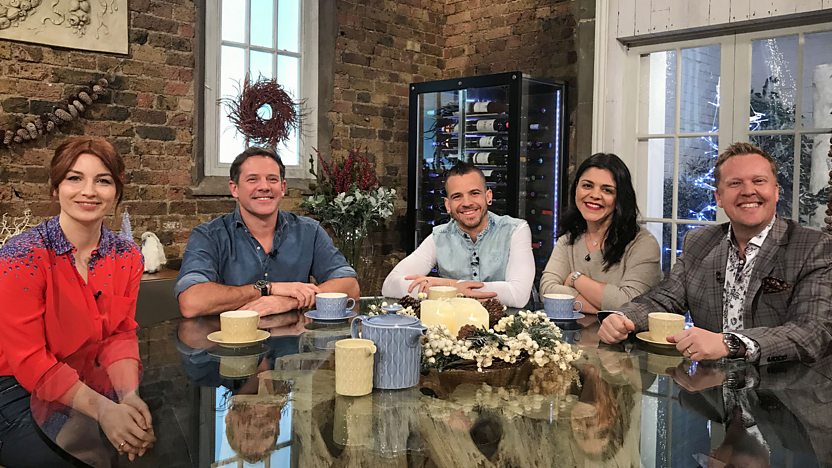 Saturday Kitchen
14/12/2019