Kids' cheese and vegetable frittata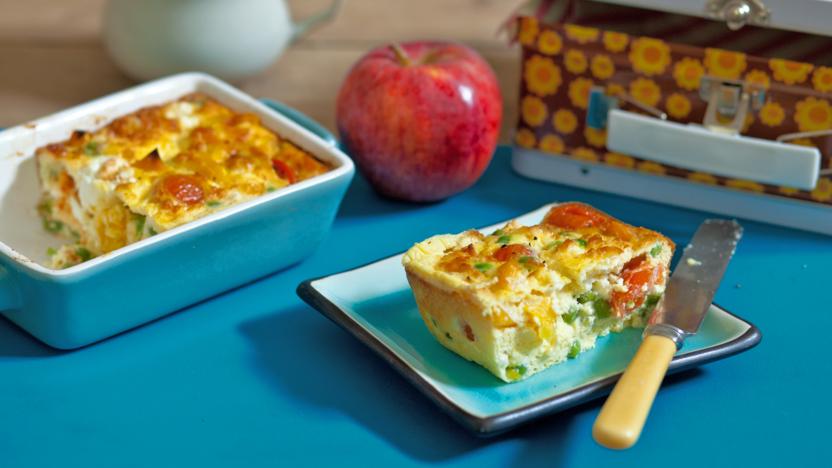 Try making a frittata in the oven - this way the kids can do all of the chopping and mixing before an adult puts it in the oven. You can make mini-frittata in muffin tins, ramekins or small pie dishes. Cold frittata is lovely for picnics or lunch boxes.
Method
Adult's job: preheat the oven to 180C/350F/Gas 4.

Kid's job: Rub the oil over the inside of a 20cm/8in square oven-proof dish or 6-hole muffin tin with a bit of kitchen roll or a pastry brush.

Kid's job: Break the eggs one by one into a small bowl so you can check if there is any egg shell in the bowl. If there is you can fish it out with a spoon. Tip each egg into a big bowl when you have checked for shell. Wash your hands after handling eggs.

Kid's job: Add the milk or cream to the eggs. Whisk the eggs with a fork or metal whisk until it is light and fluffy.

Kid's job: Add half of the grated cheese and a little ground black pepper. You can also add herbs if you like.

Kid's job: Put the vegetables you want to use into the oven proof dish. If you are using a muffin tin you can choose which vegetables go in each of the holes. Pour the egg and cheese mixture onto the vegetables and sprinkle the rest of the cheese on top.

Adult's job: Place the tin or dish in the oven for 20 minutes so that the frittata is golden-brown and set. Check that it is cooked in the middle by poking in a sharp knife. If it is still loose return the dish to the oven until set. Leave to cool a little before removing from the tin with a heatproof spatula. You can eat it warm or cold.