Kickin' fried cauliflower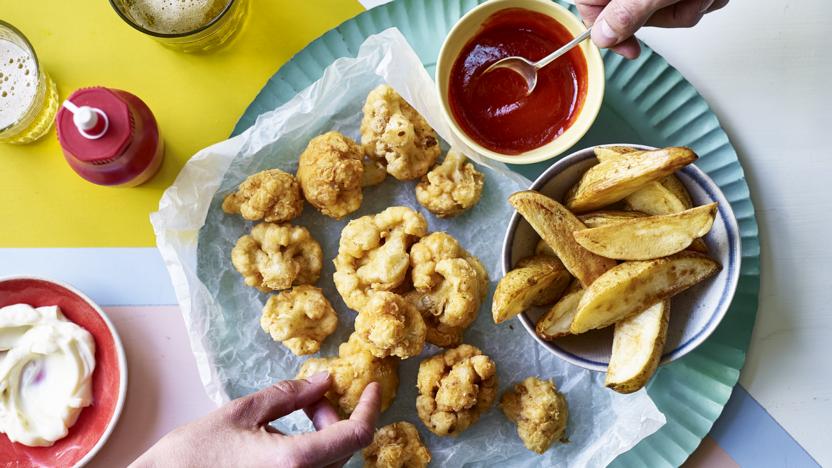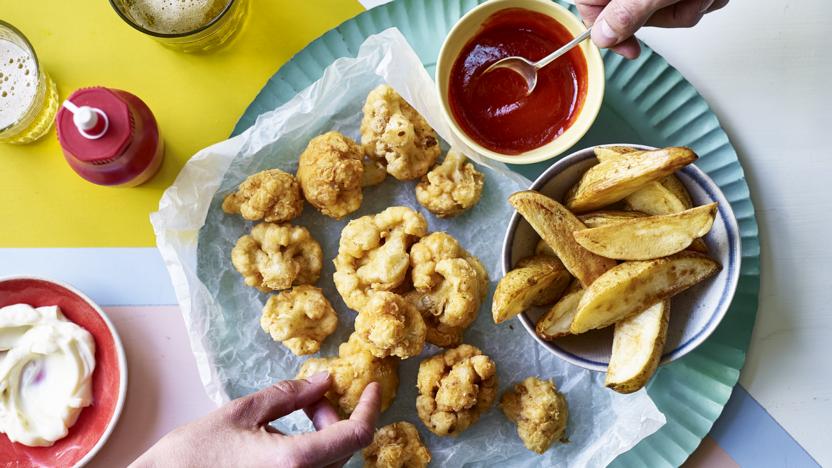 All the Southern fried flavour but without the meat. This vegan take on a junk food classic uses cauliflower as a satisfying alternative to chicken.

Method
Mix together the onion granules, garlic granules, oregano, if using, paprika and cayenne pepper in a bowl.

Pour half the spice mix into a second bowl. Add the flour and cornflour, season with salt and pepper and mix well.

Pour the rest of the spice mix into a third bowl with the soy milk and whisk to combine.

Pour the wet mixture over the cauliflower in a large bowl, mix to coat, then cover and set aside for up to an hour.

Meanwhile, preheat the oven to 220C/200C Fan/Gas 7. Place the potatoes in a bowl and drizzle with olive oil. Season with salt and pepper and mix well. Place the wedges on a baking tray and bake for 30–40 minutes, turning halfway, until cooked through and golden-brown.

Fill a deep-fat fryer or a large, deep, heavy-bottomed pan two-thirds full with the oil. Heat to 180C (a cube of bread should turn brown in 1 minute when dropped in.) CAUTION: Hot oil can be dangerous. Do not leave unattended.

Toss the cauliflower florets in the dry spice mixture, then back into the remaining wet mixture, then again into the dry mixture.

Deep-fry each cauliflower floret for 5 minutes, or until golden-brown and crispy. Drain on kitchen paper and serve with ketchup or hot sauce.
This recipe is from...
Recipes from this episode