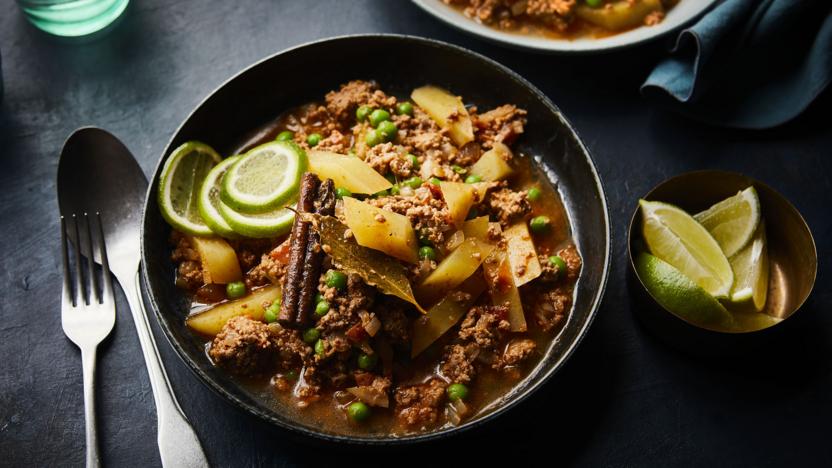 Maunika's lamb keema with peas uses minced lamb and potatoes to make a rich curry that's a great winter warmer. Once you've marinated the lamb, you can have this keema on the table in less than an hour.

For this recipe you will need a food processor.
Method
In a food processor, blend the garlic and ginger. Combine with the lamb mince in a large mixing bowl and set aside to marinate. Blend the tomatoes with the tomato purée and set aside.

Heat the oil in a large, heavy-bottomed saucepan over a medium heat. Add the cinnamon and bay leaves and when they're sizzling, add the onions. Fry for 15–17 minutes and as they start to turn light brown, add the chopped tomatoes and tomato purée. Fry for another 6–7 minutes until the mixture thickens and reduces slightly. Add the marinated minced lamb along with the chilli powder and cook for 5 minutes, stirring often. Add the potatoes, 200ml/7fl oz water and season to taste. Simmer over a low heat for 18–20 minutes with a lid on, stirring well after about 10 minutes.

Add the green peas and garam masala, and simmer for another 5 minutes. Make sure the potatoes are cooked. Finish with lime juice and coriander, and serve immediately.
Recipe Tips
Maunika has added potatoes to her recipe to make this an extra hearty supper, but you can take them out and serve with rice, naan or chapatis if you're concerned about a carb overload!