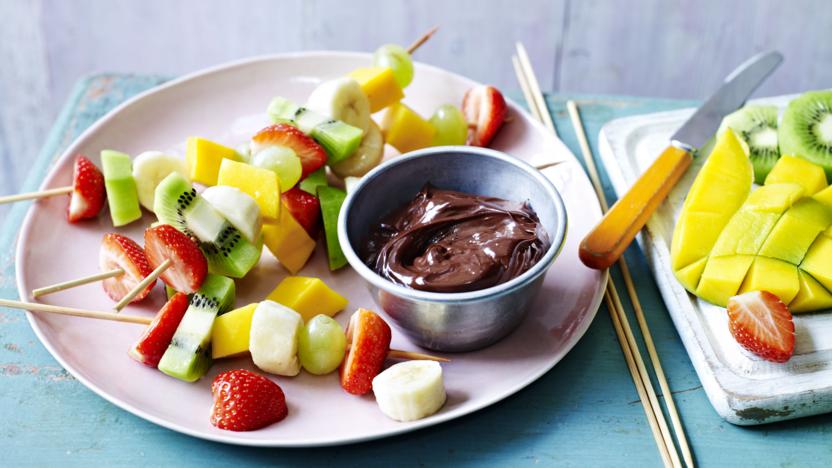 Get on your way to five-a-day with one of these fruity kebabs. This is a great dessert to dish up if you are new to cooking.

Equipment and preparation: for this recipe you will need 8 wooden skewers.
Ingredients
For the chocolate sauce
Method
Start by preparing the fruit, for the strawberries remove the stalk and cut in half if they are big.

For the kiwis, peel with either a potato peeler or a small sharp knife. Cut off the top and bottom of the kiwi and cut into 4 pieces.

For the banana, peel the bananas and cut into chunks. If you are preparing the banana beforehand you will need to drizzle it with lemon juice or it will go brown.

For the mango, stand the mango so the pointed end is facing away from you and the cheeks either side. Slice using a small sharp knife downwards to remove the mango cheeks either side of the stone. Score along the length of the cheek with the tip of the knife. Turn 90 degrees and score along again to make a crisscross pattern. The squares should be bite size. Gently push out the flesh, slice off the cubes and throw away the skin.

Thread the fruit onto wooden kebab skewers, alternating the fruit.

To make the chocolate sauce, break the chocolate and put it in a heatproof bowl. Sit the bowl over a pan of barely simmering water, making sure the base of the bowl doesn't touch the water.

Allow the chocolate to melt slowly, stirring occasionally. The melted chocolate should be smooth and glossy.

Heat all the remaining ingredients in a small saucepan until evenly combined. Do not let the cream boil. Remove from the heat and stir through the melted chocolate. Stir until well combined and the sauce is smooth and glossy.

Pour the chocolate sauce into a small bowl and serve as a dipping sauce for the kebabs.