Jungle chicken curry with rice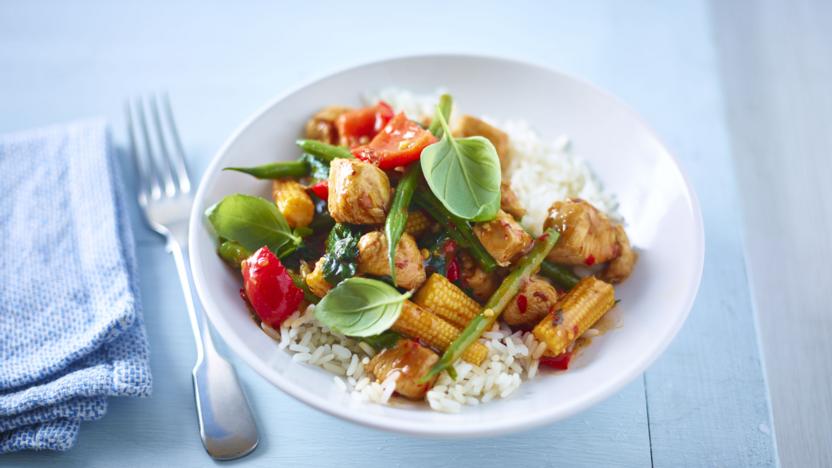 This budget version of a Thai jungle chicken curry is packed with healthy veggies. Feel free to customise as you like.
Method
Stir the lime leaves in to the stock and set aside to infuse.

Meanwhile, half-fill a large saucepan with water and bring to the boil. Add the rice, stir well and return to the boil, then cook according to the packet instructions.

Heat the oil in a large non-stick frying pan or wok over a high heat. Add the chicken, red pepper, green beans and baby sweetcorn and stir-fry for 2-3 minutes.

Add the curry paste and cook for a further 1-2 minutes.

Add the stock, lime leaves and fish sauce, bring the mixture to the boil. Reduce the heat and simmer for 2-3 minutes, or until the vegetables are just tender.

In a small bowl, whisk the cornflour with 1 tbsp cold water to form a smooth paste. Whisk into the curry and continue to simmer for 4-5 minutes, or until the curry sauce has thickened slightly.

Stir in the spinach and continue to simmer until just wilted. Stir in the basil leaves just before serving. Discard the lime leaves.

To serve, drain the rice and spoon it onto serving plates. Top each portion with a ladleful of the curry.
Recipe Tips
The chicken can be swapped for thin strips of frying steak or pork tenderloin. You can also substitute the fresh vegetables with a bag of frozen mixed stir-fry vegetables.