Jollof rice balls with Scotch bonnet sauce
Use leftover jollof rice or make some fresh for these crispy, golden rice balls. They have a cheesy centre and come with a fiery Scotch bonnet sauce – a truly irresistible combination.

You will need a stick blender or a food processor to make this recipe.
Ingredients
For the jollof rice
For the Scotch bonnet sauce
For the rice balls
Method
To make the jollof rice, heat the oil in a large casserole and add the onion. Cook for 10–15 minutes over a medium heat until the onion is golden, then add the garlic, Scotch bonnet, tomato purée and all-purpose seasoning. Cook for another 2 minutes before adding the tomatoes, stock cubes and bay leaves. Season to taste with salt and a pinch of white and black pepper. Simmer for 5 minutes.

Stir in the rice, then add the lamb stock, stir again and cover the casserole with foil. Put the lid on and turn the heat down to low. Simmer for 25–30 minutes, stirring every so often, until the rice is tender. Remove from the heat and leave the rice to stand, covered, for 15–20 minutes. Allow to cool.

To make the Scotch bonnet sauce, add the oil to a saucepan and fry the onion over a medium heat for 15 minutes until soft and beginning to caramelise. Add the chillies, garlic and ginger and fry for 2–3 minutes more before adding the tomatoes, vinegar, sugar, stock cubes and 3 tablespoons of water. Season to taste with salt and pepper. Bring to a simmer and cook for 25 minutes to make a thick, spicy sauce. Blend until smooth with a stick blender or food processor.

To make the rice balls, you should have about 800g/1lb 12oz of cooled jollof rice. Divide it into 16 patties. Take a patty in the palm of your hand and place a piece of mozzarella in the centre. Wrap the rice around it using your hand and shape into a ball. Repeat with the rest of the balls and chill in the fridge for 15–20 minutes.

Preheat a deep fat fryer to 170C. CAUTION: Hot oil can be dangerous. Do not leave unattended.

Put the flour, eggs and breadcrumbs into three shallow dishes. Roll each rice ball in the flour, then the egg and then the breadcrumbs, coating well. Carefully drop the rice balls into the fryer, working in batches. Fry for 3–4 minutes until golden brown and drain well on kitchen paper while you cook the remaining balls.

Reheat the Scotch bonnet sauce. Serve the jollof rice balls whilst they are still warm with the Scotch bonnet sauce alongside.
This recipe is from...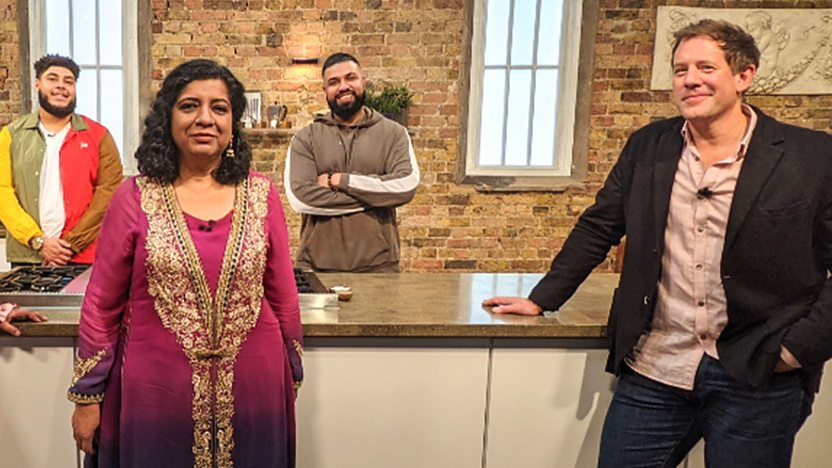 Saturday Kitchen
Eid Special
Recipes from this episode