Jerk chicken, rice and pea cakes and slaw
A Caribbean dish full of spicy flavours served with an unusual take on rice and peas.

Ingredients
For the jerk chicken spice mix
For the chicken
For the rice and pea cakes
For the slaw
Method
For the jerk chicken, preheat the oven to 200C/400F/Gas 6.

Place all the ingredients for the jerk spice mix in a blender and blend until you have a rough paste.

Spread the mixture all over the chicken and leave to marinade for at least an hour.

Heat a large griddle pan, drizzle a little oil over the chicken and place skin-side down on the griddle. Cook for five minutes, turn over and place in the oven for 40-45 minutes, or until cooked through.

For the rice and pea cakes, heat a large pan and add the butter. Add the onion, cook for a couple of minutes and then add the garlic, chilli and thyme and cook for a further minute.

Add the rice and stir to coat the rice. Gradually add the stock a little at a time until all the stock has gone and you have a creamy risotto. Finish by adding the fresh peas and parmesan.

Allow to go cold and then set aside in the fridge.

To make the rice and pea cakes, heat a large frying pan and add the oil. Once hot take a tablespoon of cold risotto and shape into a small cake the size of a fish cake and fry for a couple of minutes each side.

For the slaw, add the egg yolks to a small food processor and add the mustard and vinegar. Start the motor on the processor and gradually add the oil a little at a time to make mayonnaise.

Place the sliced celeriac and carrot in a large glass bowl and add the mayonnaise, lemon juice, mustard and chives.

To serve carve the chicken into portions and place on a plate with the rice and pea cakes and slaw.
Recipe Tips
You can buy the all-purpose seasoning, or make up your own by mixing together the following ingredients: 1 tsp dried basil, 1 tsp ground mace, 1 tsp dried marjoram, 1 tsp ground cloves, 1 tsp dried thyme, 1 tsp ground nutmeg, 1 tsp oregano, 1 tsp black pepper, 1 tsp dried parsley, ½ tsp cayenne pepper, 1 tsp summer savoury. (It will keep for several weeks in an airtight container.)
This recipe is from...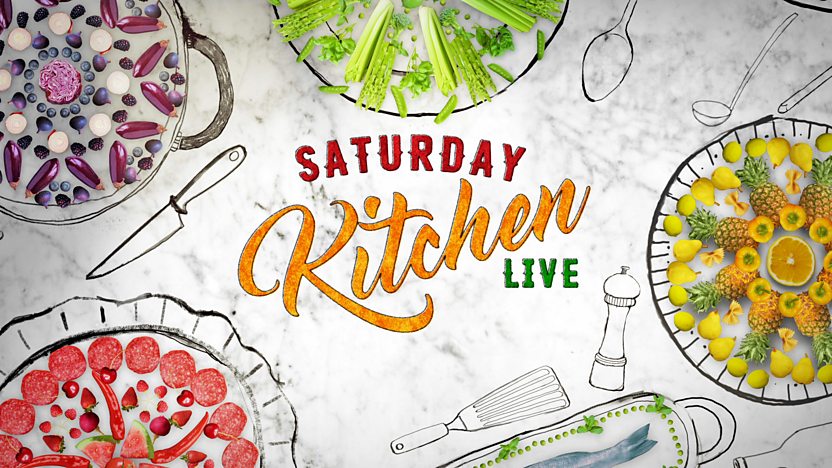 Saturday Kitchen
11/05/2013
Recipes from this episode