Jerk chicken and flatbreads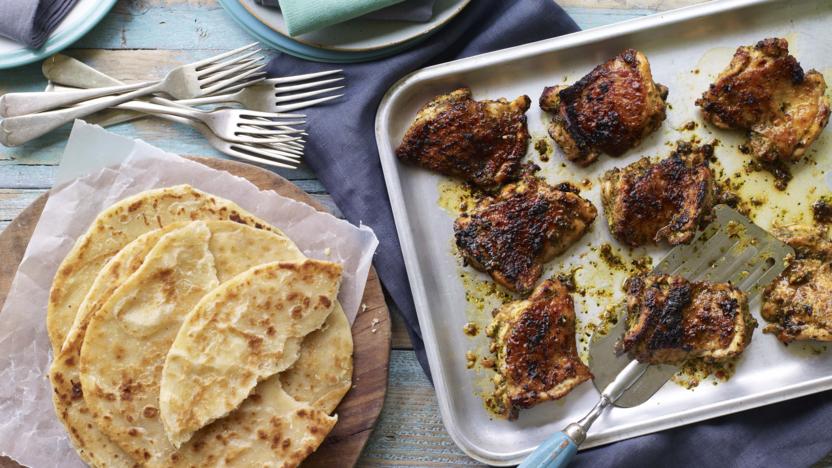 Jerk chicken is a popular party dish for good reason. It will bring sunshine to your plate on the cloudiest of days.
Ingredients
For the jerk paste
For the flatbreads
Method
Put the jerk paste ingredients in a food processor and blend until smooth, using enough oil and orange juice to create a thick paste. Smother the chicken in the paste, cover and leave in the fridge for at least 2 hours, or preferably overnight.

Preheat the oven to 180C/160C Fan/Gas 4.

To make the flatbreads, beat the butter and milk together in a bowl. Slowly mix in the flour and ½ teaspoon salt until you have a dough consistency.

Knead the dough on a lightly floured work surface until smooth. Wrap in cling film and chill in the fridge for 30 minutes.

Meanwhile, place an ovenproof griddle pan over a high heat and cook the chicken on both sides until browned. Transfer the pan to the oven and bake for 40 minutes. (You could also cook this on a hot barbecue. Just make sure the chicken is fully cooked before serving.)

Place the rested dough on a lightly floured work surface and divide into quarters. Roll each quarter out to 3mm thick.

Using a heavy-based frying pan or skillet, heat a little oil over a medium heat and add a flatbread. Cook for 1–2 minutes on each sides, or until you reach your desired level of crispness. Serve the chicken with the warm flatbreads.
This recipe is from...
Recipes from this episode