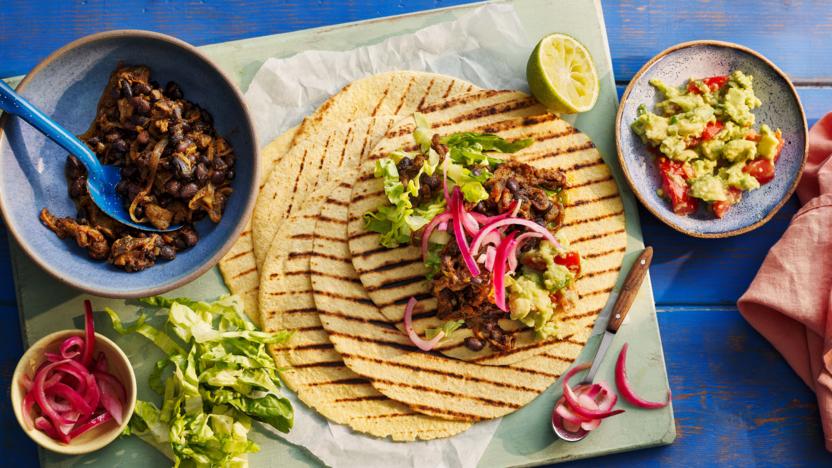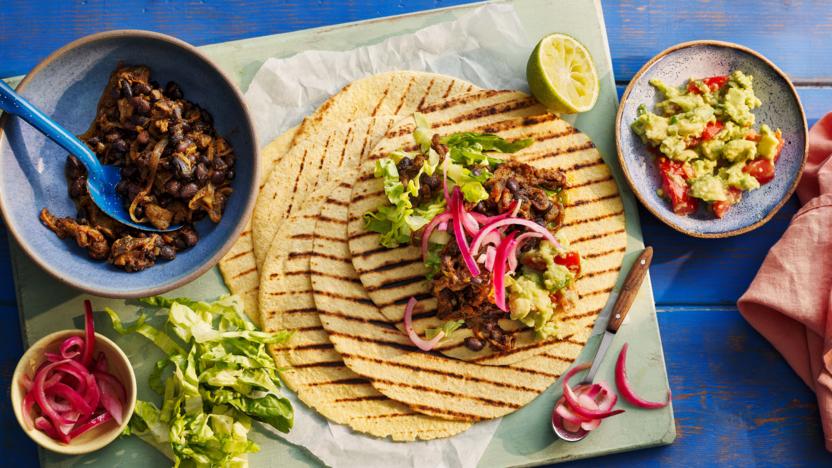 Jerk-spiced pulled aubergine with nutty black beans is a veggie alternative to traditional taco fillings. Add in guacamole, lettuce, pickled onion and you have a fantastic vegan family sharer.
Ingredients
For the tacos
For the quick pink pickled onion
To serve
Method
To make the quick pink pickled onion, mix the the onion and the lime along with a good pinch sea salt, for 10 seconds or so until all well combined. Leave to steep for an hour or so – the mixture will turn bright pink.

Preheat your grill to hot, then cook the aubergine under the grill until blackened and soft all over, about 20–30 minutes. Set aside to cool.

In the meantime, heat the olive oil in a large ovenproof pan over a medium heat. (You can always use a standard frying pan and transfer to a roasting dish for the oven.) Fry the onion until softened and golden-brown, about 10 minutes.

Heat the oven to 200C/180C Fan/Gas 6. Pull the flesh from the cooled aubergine, discarding the skin. Add the aubergine flesh to the pan with the onion, then add the jerk marinade or paste. Give it a stir until the aromas hit you, then add the black beans and some salt and pepper. Stir again and pop into the oven to cook for about 10–15 minutes until rich and thickened.

Serve piled into warmed tortillas, topped with pink pickled onion, shredded Little Gem and guacamole.
Recipe Tips
Other roast or grilled vegetables can be used alongside the aubergine - peppers, courgettes, squash, sweetcorn all work really well.