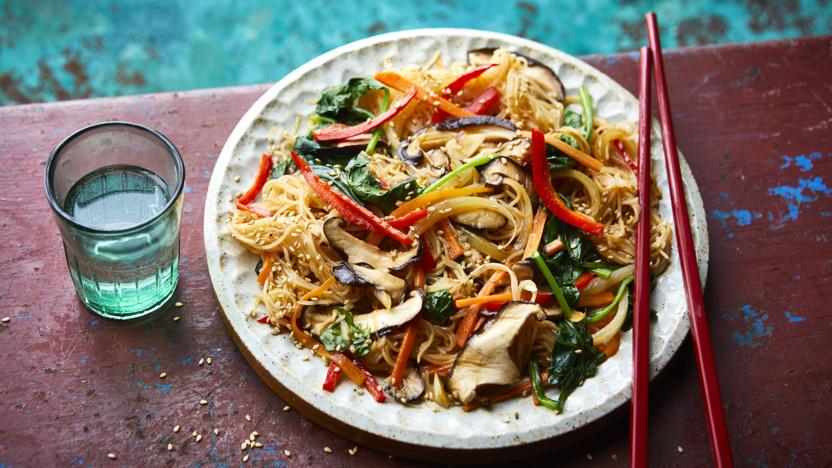 Sweet potato vermicelli noodles can be tricky to get hold of, but they keep for ages and really are the key to a great japchae. Mix up the veg if you wish to make use of what you have in the fridge.


Method
Place the vermicelli in a large bowl and pour boiling water over the noodles. Leave to soak for about 6–8 minutes, or until softened and chewy. Drain and rinse under cold water.

Lay out all your prepared ingredients near the hob ready for stir frying.

To make the sauce, mix all of the ingredients together in a small bowl.

Heat the oil in a wok to a medium–high heat and once smoking hot, add the onions and stir-fry for 30 seconds. Add the garlic, pepper, carrot, mushrooms, spinach and noodles, allowing 30 seconds between each ingredient before adding the next. Once the noodles are added to the wok, stir-fry for a further minute or so, folding all the vegetables evenly through the noodles. Now pour the sauce into the wok and bring to a vigorous boil over a high heat. Stir the sauce into the noodles for 2–3 minutes, until all of the sauce has been absorbed by the noodles. Garnish with the toasted sesame seeds and serve.