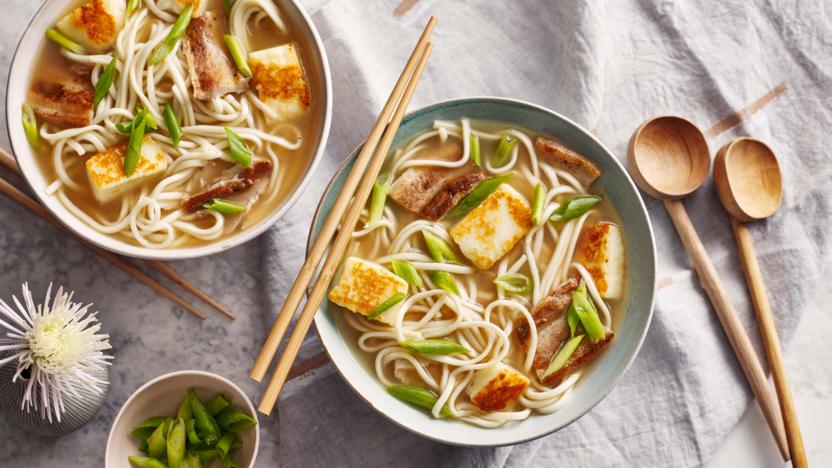 Make a comforting bowl of Japanese curry udon soup, with fried pork belly, tofu and chewy, slippery noodles – it's super simple and tastes amazing.
Ingredients
For the dashi
For the noodle soup
Method
To make the dashi, soak the kombu in 600ml/1 pint water for a couple of hours.

Gently bring the kombu and soaking water to the boil, then add the bonito flakes and turn off the heat. Leave for 10 minutes until the bonito flakes have sunk to the bottom of the pan.

Strain the liquid through a colander lined with kitchen paper into another pan. Add the soy sauce, mirin and sugar and bring to the boil again, then set aside.

Mix the curry powder with the potato starch, add 75ml/5 tbsp water and mix well.

Cook the noodles in boiling water following the packet instructions.

Meanwhile, heat the oil in a large frying pan over a high heat and add the pork belly. Brown the pork on both sides, then add the tofu and fry for a further 2 minutes.

Add the dashi to the pan and bring to the boil.

Give the curry powder mix a good stir, then, while stirring the dashi and pork with one hand, gradually pour the curry mix into the soup with the other. Keep stirring until the soup starts to thicken.

Divide the udon noodles between two serving bowls. Ladle over the curry soup and top with spring onions.