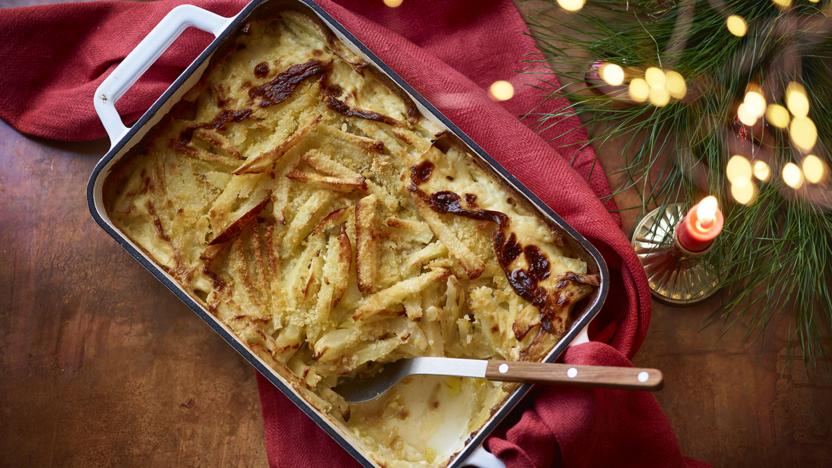 Jansson's temptation is very much the taste of Christmas for Swedes, and I have enthusiastically incorporated it into my own festive eating schedule. And while I do, indeed, serve it with the Norwegian pork ribs, it is so addictively good that I am happy to make a main meal out of it, with a salad or two on the side.
Method
Preheat the oven to 200C/180C Fan/Gas 6. Butter an ovenproof dish with a capacity of about 2.5 litres/4½ pints (mine measures 34 x 20 x 6cm/13½ x 8 x 2½in).

Melt 3 tablespoons of the butter in a large frying pan (I use a non-stick one of 28cm/11in diameter). Add the onions, sprinkle with the ½ teaspoon of sea salt flakes (or ¼ teaspoon of fine sea salt) and stir for a few minutes over medium–high heat. Once they start to lose their raw look, turn the heat down to low and cook very gently for 15–20 minutes. Keep an eye on them, and stir regularly: they should be soft and pale gold. If they are beginning to catch, you can sprinkle a little water into the pan, or add more butter. Once they're ready, use a bendy spatula to scrape them and their buttery juices into a bowl.

Put a third of the potatoes into the buttered dish. Season with 1 teaspoon of sea salt flakes (or ½ teaspoon of fine sea salt) and a good grinding of pepper. Spread half the soft onions over the potatoes, followed by one tin of sprats. And now layer up again: the second third of potatoes, salt and pepper as before, followed by the remaining onions and the second tin of sprats. Top with the final third of potatoes.

Mix together the milk and cream in a jug and pour it over the potatoes – it won't cover them completely. Push down any that are poking up, just so that they're lightly covered with the creamy milk, but don't worry if they pop up again. Sprinkle over the breadcrumbs, if using, and dot over the remaining tablespoon of butter, then bake for 1 hour, but check at 45 minutes: push a fork in, and if it meets with no resistance, the potatoes are cooked. They'll certainly be golden on top, but it's essential they're soft underneath.

The gratin will stand for a while until needed, and tastes just as good, if not better, warm rather than hot.
Recipe Tips
You may have come across Jansson's temptation described as a potato and anchovy dish. But in fact, the Swedish 'ansjovis' are sprats rather than anchovies, not a completely different kettle of fish, but different enough. Significantly, they are less salty and intense, having a lighter, sweeter cure than anchovies; it might be more accurate to describe them as pickled. I get mine from my usual online supermarket but otherwise you can get them from Scandinavian food websites.
Leftovers are easily reheated for repeated rapture. For many Swedes – and those of us who are not Swedish – it is these reheated leftovers that are the real Christmas treat.
This recipe is from...
Recipes from this episode