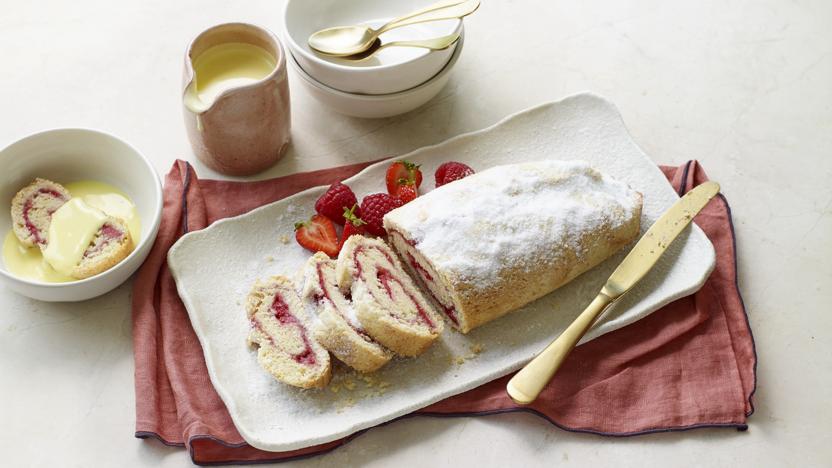 Nadiya's version of a classic jam roly poly uses fresh fruit instead of jam. It's delicious served with hot custard.

Ingredients
For the roly poly
For the jam filling
To serve
Method
Preheat the oven to 180C/160C Fan/Gas 4. Place a deep baking tray in the bottom of the oven, fill half way with boiling water and close the oven.

Make a 30x40cm/12x16in sheet of foil and a piece of greaseproof paper the same size and put the paper on top of the foil. Grease the paper and set both aside.

Pour the flour into a bowl along with the butter, sugar and vanilla bean paste. Rub the butter in using the tips of your fingers until the mixture resembles breadcrumbs. You could do this using a food processor.

Add the suet and mix in well. Make a well in the centre and add 125ml/4fl oz of the milk to it. Using a cutlery knife, bring the dough together, then get your hands in to bring it into a ball. If the dough is looking dry, add the remaining milk. Dust a clean surface with some flour, and roll the dough into a 25cm/10in square.

To make the jam filling, crush the raspberries with the orange zest and mix well with the sugar. Spread the fruit onto the dough square, leaving a 1cm/½in border exposed.

Now roll like you would a Swiss roll. Pinch the ends to seal it really well. Pick it up and put into the centre of the paper, seam-side down. Bring the two paper edges to the top and roll to seal, leaving lots of space for the roly poly to grow. Seal the ends by rolling them up, then put the roly poly on a baking tray and place in the oven on a rack above the tray of water to steam and bake for 1 hour, topping up the water if needed.

As soon as it is baked, take out and leave to cool for 10 minutes in the paper foil parcel. Unwrap, pop onto a serving dish and sprinkle sugar over generously. Cut into slices while still warm and serve with hot custard and fresh berries.
This recipe is from...
Recipes from this episode