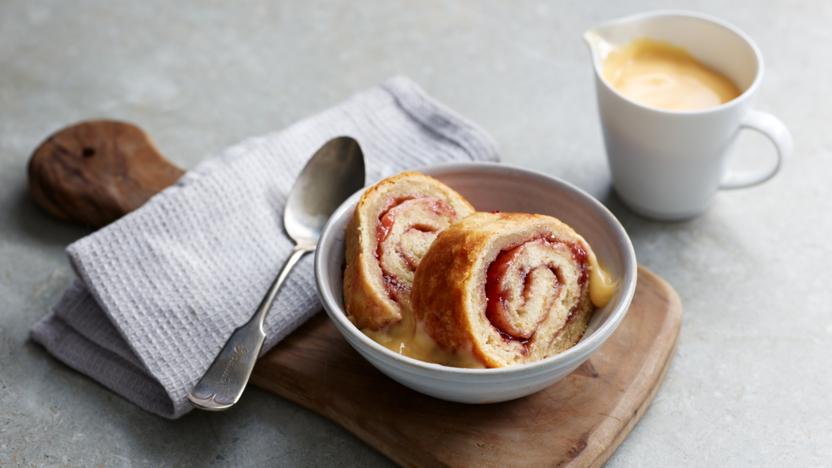 Try the Hairy Bikers' recipe for jam roly-poly. It's an easy homemade version of a childhood classic. Serve with plenty of custard.
Method
Preheat the oven to 200C/180C Fan/Gas 6. Butter a large sheet of baking paper and set aside.

Stir the flour, suet, sugar and salt in a large bowl until fully combined. Slowly stir in the milk to form a soft, spongy dough.

Tip the dough out onto a floured surface and knead for a few minutes. Roll the dough out to a 22cm x 32cm/8½in x 13in rectangle.

Spread the jam onto the dough, leaving a 1.5cm/½in border. Gently roll the dough up from the short end and transfer to the greaseproof paper, seam-side down. Wrap the roly poly in the baking paper, making a long pleat in the paper to allow the pudding to expand as it cooks. Twist the ends of the paper like a Christmas cracker and tie tightly with kitchen string, to seal the pudding inside. Repeat the process with a large piece of kitchen foil.

Place the pudding onto a roasting rack set on a deep-sided roasting tin. Pour boiling water halfway up the roasting tin and cook in the oven for 30–35 minutes.

Remove the pudding from the oven, unwrap the kitchen foil, then snip the string and unwrap the paper.

The pudding should be well risen and lightly browned in places. Don't worry if the jam has made its way through to the outside of the pudding a little – it will taste all the more delicious.

Put on a board or serving plate and cut into thick slices. Serve with lots of hot custard or cream.