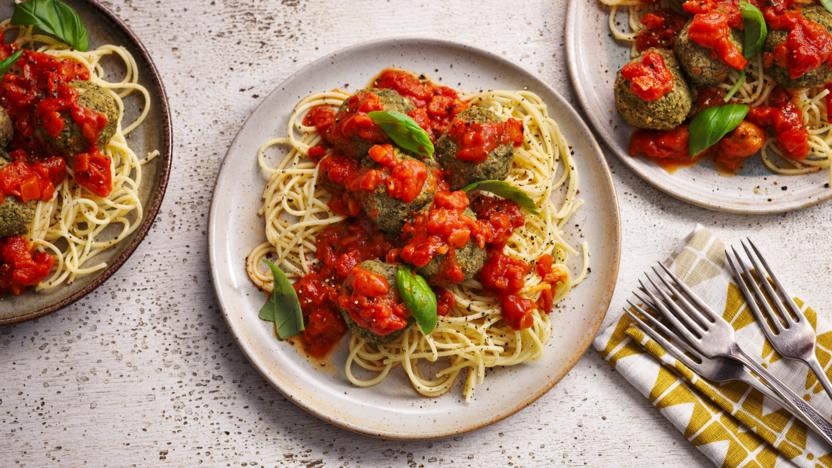 Lentils and nuts make these tasty vegetarian meatballs a protein-packed meal, while spinach provides an iron boost. Why not double the meatball recipe and use in wraps and salads for lunch-laziness the rest of the week?

Each serving provides 798kcal, 33g protein, 109g carbohydrate (of which 21g sugars), 21g fat (of which 2.5g saturates), 16.5g fibre and 0.9g salt.
Ingredients
For the meatballs
For the tomato sauce
Method
Heat the oven to 200C/180C Fan/Gas 6. Cook the lentils in a large pan of boiling water for 20–25 minutes until soft. Drain really well, then leave sitting in the sieve to finish drying and draining for 5 minutes. Put the kettle on.

Meanwhile fry the chopped onions in the oil until soft, but not brown, for about 10 minutes. Stir in the garlic, then cook together for 2 minutes more. Scrape half of the onion mixture out of the pan and into a food processor – leave the rest in the pan for the sauce. Put the spinach in a colander and pour over the boiling water from the kettle to wilt the spinach. When cool enough to touch, squeeze as much liquid out of the spinach as you can.

Tip the cooked lentils into the food processor with the onions, then add the spinach, pesto and lemon zest. Whizz until the mixture is combined, but don't blend to a complete mush. Pulse in the pine nuts (or almonds or oats). Scrape into a mixing bowl and combine with the egg and breadcrumbs. Season with salt and pepper and mix thoroughly. Roll into 20 balls, place on a greased baking tray and bake for 15–20 minutes, or until golden-brown and firm.

Meanwhile make the sauce. Add the tinned tomatoes, tomato purée, vinegar and sugar to the onion pan along with 500ml/18fl oz water. Stir in some basil leaves and a little salt and freshly ground black pepper to taste. Bring to a simmer and bubble for 15–18 minutes over a medium heat. Meanwhile cook the pasta according to the packet instructions.

When the meat-free balls are browned and cooked through, stir them in the sauce. Scatter with more basil leaves and serve with the spaghetti.
Recipe Tips
To make this a vegan recipe, simply adapt by using a vegan-friendly pesto and swapping the egg for 1 tbsp of chia seeds left to soak in 1 tbsp of water for 5 minutes.