Floating islands (Îles flottantes)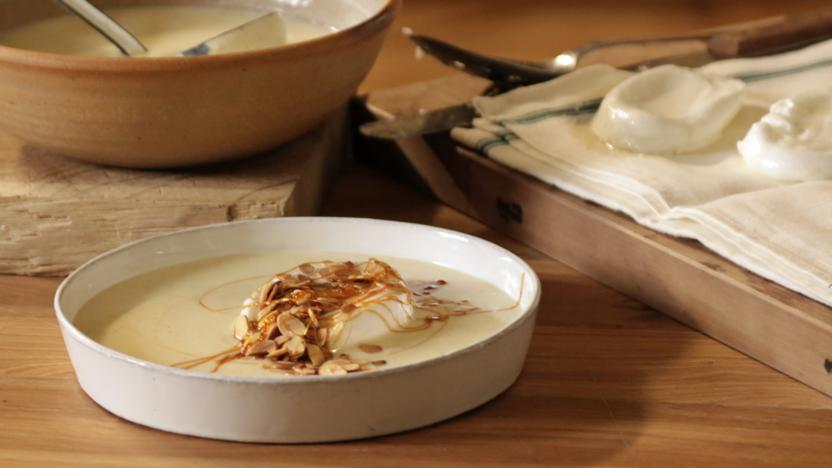 Nigel Slater demystifies this quintessential French dish of meringue 'islands' floating in custard, splitting it into three easy stages.
Ingredients
For the custard
For the meringues
For the caramel
Method
Preheat the oven to 200C/180C Fan/Gas 6.

For the custard, warm the milk and vanilla seeds in a saucepan over a medium heat. Bring the mixture to a gentle simmer and simmer for 3 minutes.

Meanwhile, in a large bowl, whisk together the egg yolks, whole egg and the sugar until pale and well combined.

Pour the warm milk over the egg mixture a little at a time, whisking continuously.

Return the custard mixture to the saucepan and cook over a medium heat, stirring continuously with a wooden spoon, for 5-10 minutes, or until the mixture thickens enough to coat the back of a spoon. Set aside to cool, then chill in the fridge.

Meanwhile, for the meringues, sprinkle the caster sugar onto a high-sided baking tray. Cook the sugar in the oven for 4 minutes.

In a large mixing bowl, whisk the egg whites using an electric whisk As you whisk them, gradually pour in the slightly warmed sugar, little by little, until it has all been incorporated into the mixture and stiff peaks form when the whisk is removed.

Bring the milk to a very gentle simmer in a saucepan.

Run a serving spoon under the tap, then take 3 oval-shaped scoops of the meringue mixture and gently lower them into the warm milk. Poach for 3-4 minutes on each side, or until cooked through. Remove from the milk using a slotted spoon and set aside to drain on kitchen paper.

For the caramel, melt the sugar in 50ml/2fl oz water in a saucepan over a medium heat. Stir with a wooden spoon until the sugar dissolves in the water and the mixture turns copper in colour. Remove from the heat.

To serve, ladle the chilled custard into bowls. Float one meringue 'island' on top of each portion of custard. Drizzle a trickle of caramel over each to finish.
This recipe is from...
Recipes from this episode