Iced coffee and honeycomb parfait with vanilla custard and chocolate-coated coffee beans
Ingredients
For the honeycomb
For the parfait
For the vanilla custard
For the chocolate-coated coffee beans
Method
For the honeycomb, line a baking tray with greaseproof paper and grease with vegetable oil.

Place the sugar, honey, liquid glucose and water into a saucepan and bring to a boil.

Continue to cook until the temperature reaches 160C/320F on a sugar thermometer, taking care as sugar at this temperature can be very dangerous.

Remove from the heat and quickly beat in the bicarbonate of soda with a wooden spoon, stirring constantly.

Pour the mixture onto the lined baking tray. Set aside until hard and then break into pieces using your hands.

For the parfait, place the egg yolks, coffee and half of the sugar into a small frying pan and whisk to combine.

Place over a low heat and cook gently, stirring occasionally, for about ten minutes, or until the mixture thickens.

Remove from the heat and pour through a metal sieve into a mixing bowl. Whisk until the mixture cools and is light and fluffy. Set aside.

In a clean mixing bowl, whisk the egg whites to form soft peaks when the whisk is removed from the bowl. Fold in the remaining sugar to make a raw meringue mixture.

Whisk the meringue mixture into the set-aside coffee mixture.

Place the cream into a separate bowl. Whip the cream until soft peaks form when the whisk is removed from the bowl. Fold the cream into the coffee mixture.

Line a rectangular loaf tin with cling film. Pour half of the parfait mixture into the tin.

Place pieces of the honeycomb on top of the parfait to cover. Pour the remainder of the parfait over the honeycomb.

Tap to settle and cover with cling film. Place in the freezer for two hours until frozen just solid.

For the custard, place the egg yolks and sugar in a bowl and whisk until well blended.

Place the milk and cream into a saucepan.

Using a sharp knife, scrape out the seeds of the vanilla pod and add to the milk mixture. Bring to the boil.

Pour the hot milk and cream onto the eggs, whisking all the time. Pour the mixture back into the saucepan and heat gently, stirring occasionally, until the mixture thickens. Keep warm.

For the chocolate-coated coffee beans, line a tray with greaseproof paper. Place the chocolate into a bowl and place over a pan of boiling water until melted.

Add the coffee beans to the chocolate and stir to coat. Pour into the lined tray and allow to cool. Break into pieces when cool.

To serve, remove the parfait from the freezer 20 minutes before serving. Cut 2cm/¾ slices of the parfait and place onto the centre of each serving plate. Spoon the custard around the edge and scatter over the chocolate coated coffee beans.
This recipe is from...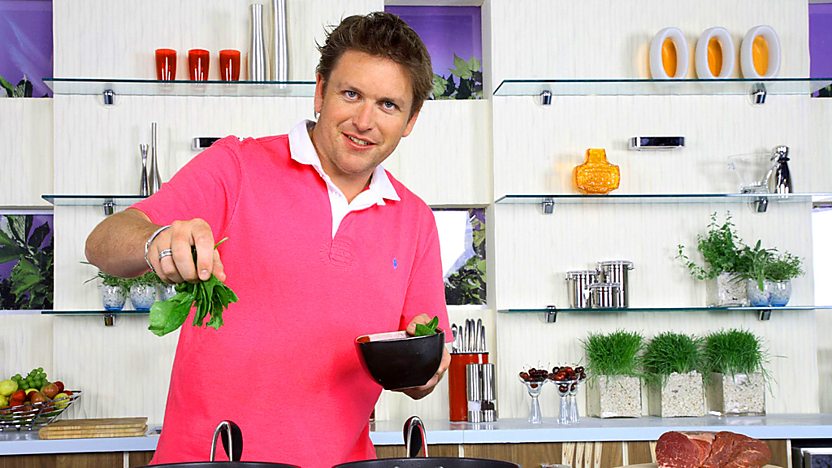 2007-16
222. 28/02/2016
Recipes from this episode