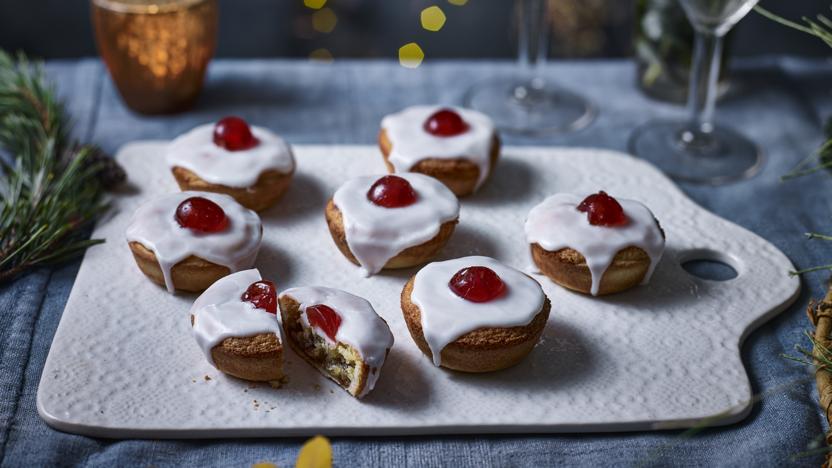 These Christmas tarts are mince pies with a twist – a nutty frangipane filling replaces some of the traditional mincemeat and they're topped with a lovely looking icing.

You will also need 2 x 12-hole bun trays (not muffin tins) and an 8cm/3¼in round cutter.
Ingredients
For the pastry
For the frangipane filling
To decorate
Method
For the pastry, tip the flour, caster sugar and salt into a food processor bowl. Add the chilled, diced butter, and, using the pulse button, rub the butter into the dry ingredients until the mixture resembles fine sand.

Add the cream cheese in teaspoonfuls, and the ground almonds and egg yolk and mix again until the dough starts to come together.

Tip out of the food processor into a mixing bowl and use your hands to bring the dough together into a neat ball, but do not overwork the pastry. Flatten into a disc, cover with cling film and leave the pastry in the fridge for at least 1 hour to rest.

Lightly dust the work surface with plain flour, divide the dough in half and roll out one half to a thickness of around 2mm/1/16 in.

Using the cutter stamp, cut out as many discs from the dough as you can and use to line the bun tins, gently pressing the dough into the tins with your fingers. Gather the scraps together and set aside while you roll out the second half of the dough and stamp out more pastry discs.

Gather all of the dough scraps together and gently press into a ball. Re-roll and stamp out more discs – you should aim for about 22 pastry cases in total. Chill the pastry cases in the fridge for 20–30 minutes while you preheat the oven and prepare the filling.

Preheat the oven to 180C/160C/Gas 4.

For the frangipane filling, tip the ground almonds into a bowl, add the butter, caster sugar, eggs, flour, lemon zest, vanilla and a pinch of salt and beat until soft and smooth.

Divide the mincemeat between the pastry cases and top with a dessertspoon of the frangipane filling mixture, spreading it to cover. Bake on the middle shelf of the preheated oven for about 20 minutes, or until puffed up and golden-brown. You may need to swap the trays over halfway through cooking to ensure that the tartlets cook evenly.

Remove from the oven and leave the to cool in the tins for 4–5 minutes and then carefully transfer to a wire rack until the tartlets are cool.

Sift the icing sugar into a bowl, add the lemon juice and about one tablespoon of cold water and mix into a smooth icing, adding more water if needed.

Spoon the icing over the top of each tartlet and top each with half a glacé cherry. Leave the icing to set before serving.