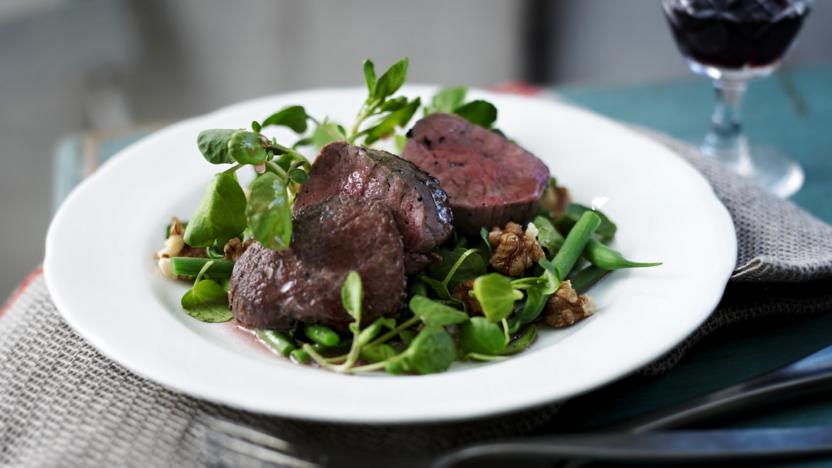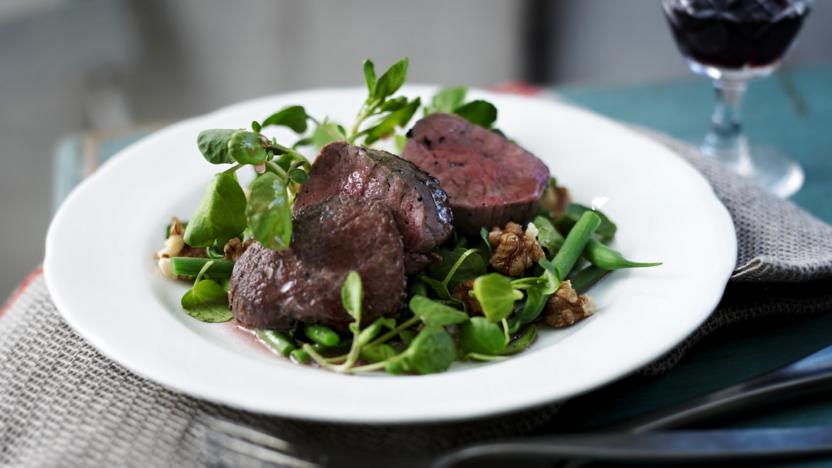 This is venison cooked to melt in your mouth and served with a punchy pickle dressing on a light, refreshing salad.
Ingredients
For the salad
For the dressing
Method
Using a very sharp knife, cut away any silvery sinews that run down the length of the fillet.

Rub the venison with a tablespoon of vegetable oil, then season generously with salt and freshly ground black pepper. Heat a large heavy-based frying pan until very hot, and then sear the fillet on all sides until dark golden-brown on the outside (this will take about two minutes). Then reduce the heat to low and gently fry, turning regularly, for 6-8 minutes or until cooked to your liking.

Transfer the venison onto a board, cover very loosely with a piece of foil and allow to rest for a few minutes while you make the dressing. Add a tablespoon or so of water to the hot frying pan, and scrape up any browned bits from the pan with a wooden spoon. Set aside to cool.

For the salad, trim the stalk end from the green beans. Bring a pan of salted water to the boil, then cook the beans for five minutes or until just tender. Drain, cool under cold running water (so they keep the bright green colour), then drain again, pat dry and set aside.

For the dressing, in a small bowl whisk the mustard powder, pickled walnut juice, gherkin, black pepper and Worcestershire sauce together with the juices from the meat pan. Chop half the tarragon leaves and add to the dressing with the red wine vinegar.

Carve the venison into slices on the diagonal. Add any juices from the meat to the dressing. Scatter the beans, watercress, pickled walnut, shallot and walnuts over four plates, top with the venison then spoon over the dressing. Drizzle with walnut oil and season to taste with salt and freshly ground black pepper.