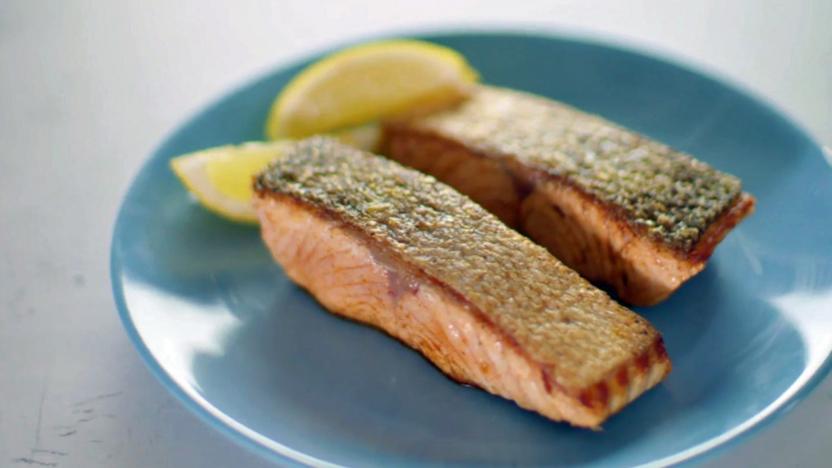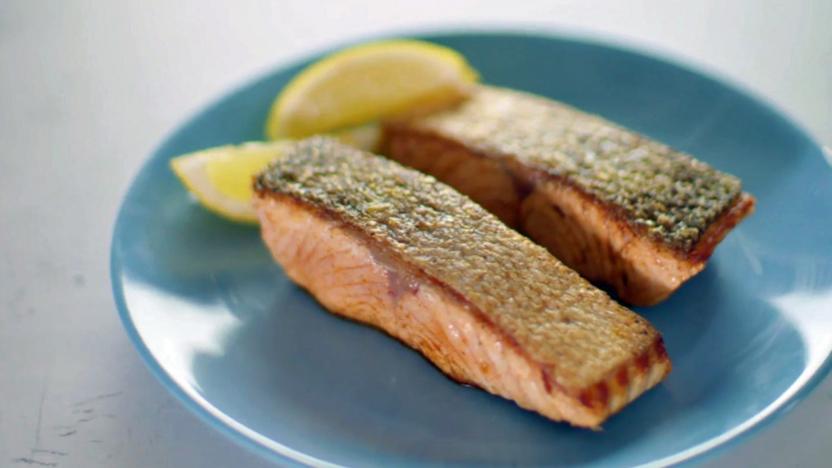 Learn how to cook salmon in three simple ways. Watch our video for delicious poached salmon, steamed salmon en papillote (in paper) and pan-fried salmon.
Ingredients
For the poached salmon
For the salmon en papillote
For the pan-fried salmon
Method
To make the poached salmon, dissolve the stock cube in the boiling water and pour into a saucepan. Add the lemon slices and enough water to come 5cm/2in up the side of the pan (approximately 600ml/1 pint). Bring to the boil, then reduce the heat to a simmer.

Season the salmon with salt and pepper on both sides, then lower into the pan skin side down and simmer for 8–10 minutes, depending on the size of the fillets, until opaque.

Remove from the heat, uncover and leave to stand in the poaching liquid for 5 minutes. Resting helps the salmon stay intact.

Carefully remove the salmon and serve immediately or leave to cool and chill in the fridge, until ready to use.

To make the salmon en papillote, preheat the oven to 190C/170C Fan/Gas 5. Season the salmon with salt and pepper and place just off centre on a square sheet of greaseproof paper. Lay the lemon slices and thyme on top of the salmon. Fold the greaseproof paper in half over the salmon and double fold around the edges to create a seal.

Put the papillote on a baking tray and bake for 12–15 minutes. Carefully open the packet to allow the steam to escape. Remove the thyme and serve immediately.

To make the pan-fried salmon, rub each fillet with chilli powder, 1 tablespoon of oil and season with salt and pepper.

Heat the remaining 1 tablespoon of oil in a frying pan over a medium-high heat. Once hot, add the salmon skin side down and cook for 4 minutes, until the skin is crisp. Turn and cook for a further 3 minutes. Remove from the pan and serve immediately.