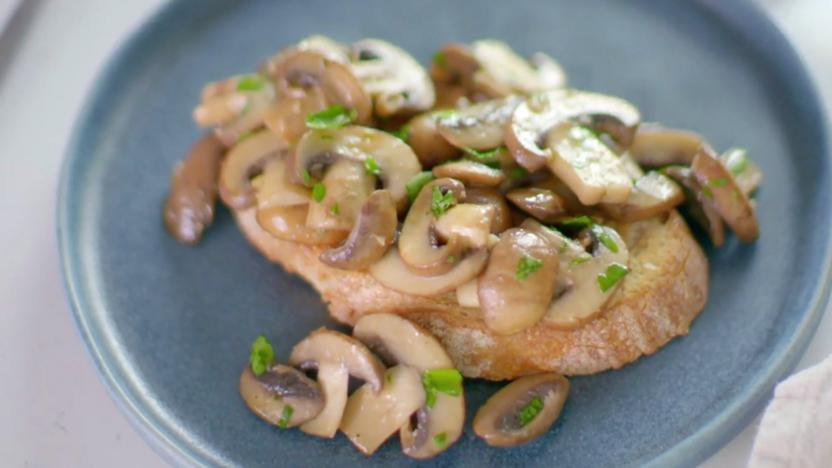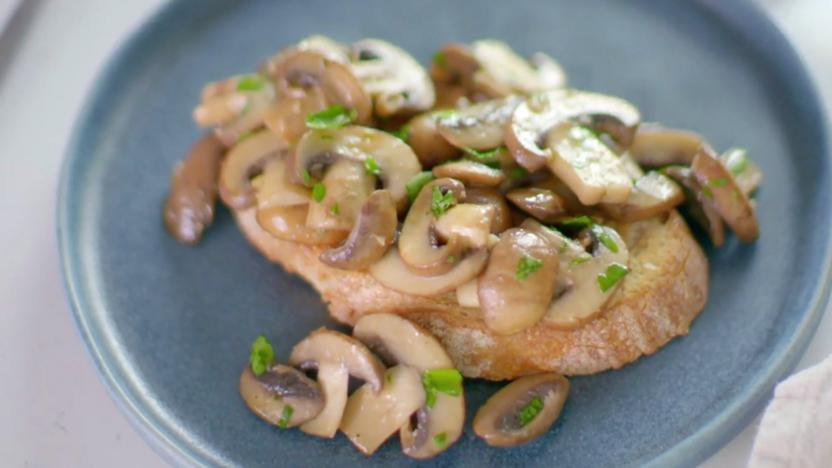 Learn how to cook mushrooms with our easy video recipe. Try delicious mushroom burgers, garlic butter roasted mushrooms and pan-fried mushrooms on toast.
Ingredients
For the fried mushrooms
For the mushroom burgers
For the roasted mushrooms
Method
To make the pan-fried mushrooms, heat the butter in a frying pan over a medium heat. When the butter starts to bubble, add the mushrooms and cook for 4–5 minutes, until the mushrooms are dark golden brown around the edges. If the pan gets dry, add a little more butter.

Season with salt and pepper, then reduce the heat to low and cook for a further 2–3 minutes. Add the garlic and lemon juice and cook until the lemon juice has reduced to almost nothing and the garlic is soft.

Remove from the heat and stir in the parsley, if using. Serve on slices of toast.

To make the mushroom burgers, mix together the vinegar, soy sauce, oil, rosemary and paprika in a large bowl. Add the mushrooms and toss in the marinade. Leave to stand at room temperature for a minimum of 30 minutes and maximum of 1 hour, turning a few times.

Preheat the grill to high. Arrange the mushrooms cap-side down on a baking tray, reserving the marinade for basting. Grill for 5–7 minutes then flip over and cook for a further 5–7 minutes, until tender, brushing with marinade every few minutes. Top the mushrooms with cheese slices during the last minute of cooking.

To serve, put the grilled mushrooms on the burger buns and top with the tomato, onion and lettuce.

To make the roasted mushrooms, preheat the oven to 200C/180C Fan/Gas 6. Put the mushrooms cap-side down in the base of a lightly greased ovenproof dish.

Melt the butter in a small frying pan, add the garlic and cook for a minute. Spoon the mixture evenly over the mushrooms, then brush the edges of the mushrooms with olive oil. Season with salt and pepper and roast for 20–25 minutes.

Remove from the oven, transfer to warm serving plates and garnish with thyme leaves, if using.