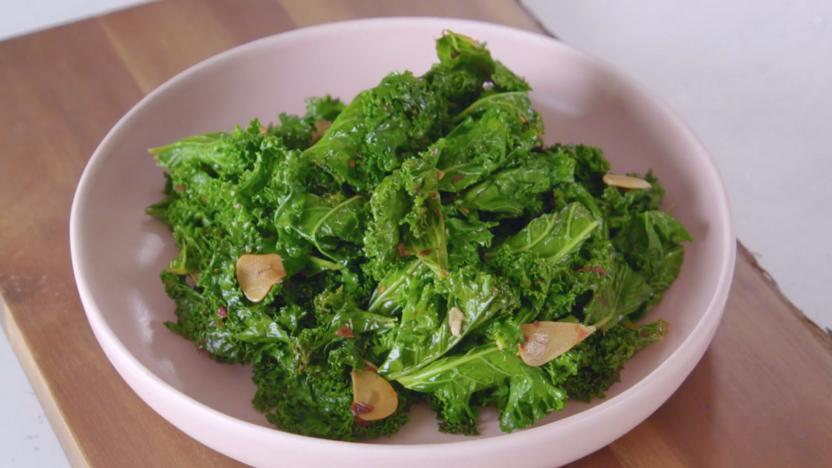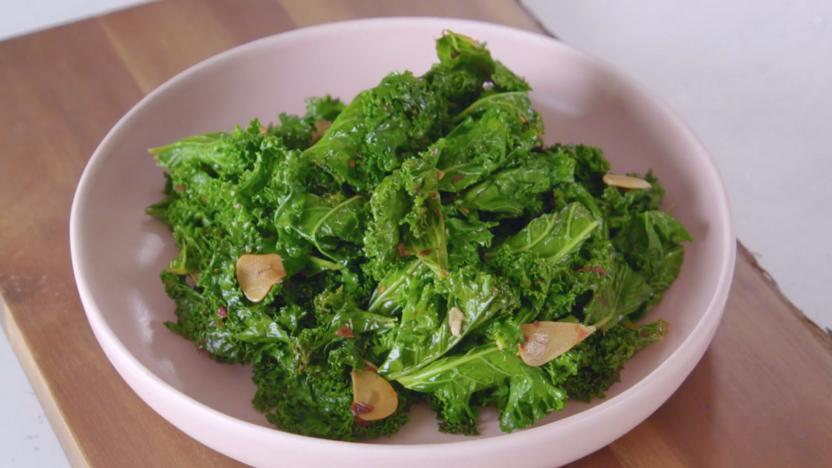 Learn how to cook kale in three quick, easy ways. Try these delicious recipes for kale crisps, kale stir-fry and steamed kale.
Ingredients
For the kale crisps
For the kale stir-fry
For the steamed kale
Method
To make the kale crisps, preheat the oven to 140C/120C Fan/Gas 1 and line two baking trays with greaseproof paper.

Put the kale pieces in a large bowl and add the olive oil and smoked paprika. Mix with your hands, until both sides of the kale are coated in oil and paprika.

Spread the kale over the lined baking sheets, spaced apart so the leaves don't overlap. Season with salt and pepper and bake for 10 minutes. Keep an eye on them as they can burn easily. Remove from the oven and leave to cool before serving.

To make the kale stir-fry, heat the olive oil in a large frying pan or wok over a medium heat. Add the garlic and chilli and fry for 2 minutes.

Add the kale to the pan with 2 tablespoons of water and season with salt and pepper. Cook for 3–4 minutes, stirring occasionally, until the kale has wilted slightly, is bright green and has some bite to it.

To make the steamed kale, fill a large saucepan a quarter of the way up with water and bring to the boil. Put the kale in a steamer, colander or sieve and place over the boiling water. Cover and simmer for 4 minutes.

Mix the lemon juice and olive oil together. Transfer the steamed kale to a serving bowl. Add the lemon juice mixture and toss together. Season with crushed sea salt.