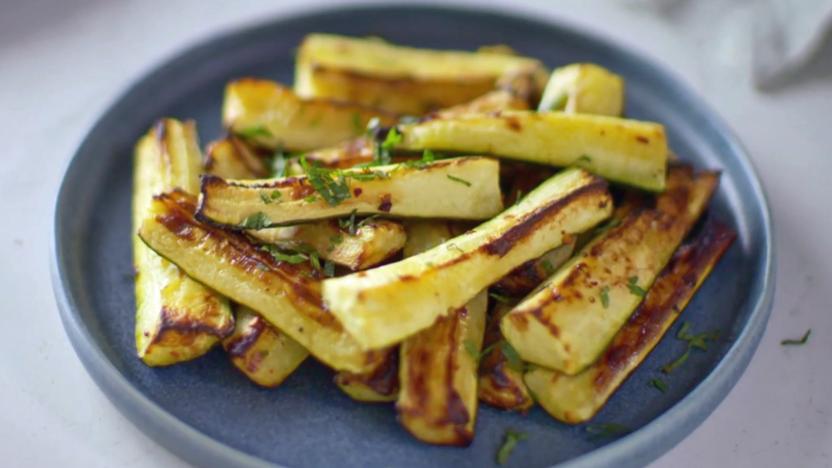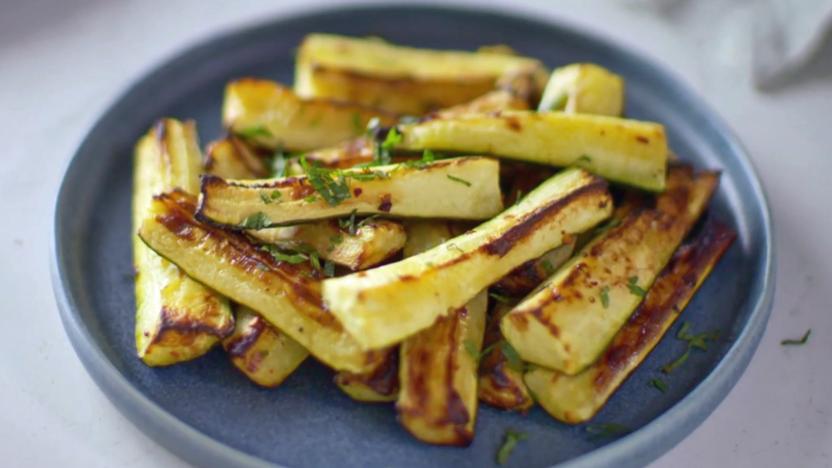 Learn how to cook courgettes in three delicious ways – fried, baked and spiralised.

For the sprialised courgette, you will need a spiraliser or large noodle attachment of a free-standing mixer or food processor.
Ingredients
For the fried courgette
For the baked courgette
For the spiralised courgette
Method
To make the fried courgette, cut the courgette into slices the thickness of a pound coin.

Heat the oil in a frying pan over a medium-high heat. Add the courgettes in a single layer and season with salt and pepper. Make sure they don't overlap. Cook for 3–4 minutes, then turn them over and cook for a further 3–4 minutes, until golden. Remove from the heat and transfer to a warm plate.

Mix the sweet chilli sauce and soy sauce together in a cup. Pour over the warm courgettes and serve immediately.

To make the baked courgette, heat the oven to 200C/180C Fan/Gas 6. Cut each courgette in half across the middle, then cut these pieces in half lengthways, and then lengthways again to make wedges.

Mix the oil, chilli flakes, salt and pepper together in a large bowl. Add the courgette wedges and toss to coat.

Arrange the courgettes skin side down on a baking tray and cook for 20–25 minutes, until soft and starting to brown. Remove from the oven and serve warm, garnished with the fresh chopped mint.

To make the spiralised courgette, spiralise each courgette on a hand held (pencil sharpener type) spiraliser or using the large noodle attachment of a free-standing mixer or food processor.

Heat the oil in a frying pan, add the courgette and cook for 1–2 minutes, until slightly softened. Stir in the pesto and cook for a further 1 minute to warm through.

Serve on a warm serving plate sprinkled with toasted pine nuts and grated Parmesan, if using.
Recipe Tips
The fried and baked courgettes are delicious eaten as a side, or added to salads and pasta dishes.