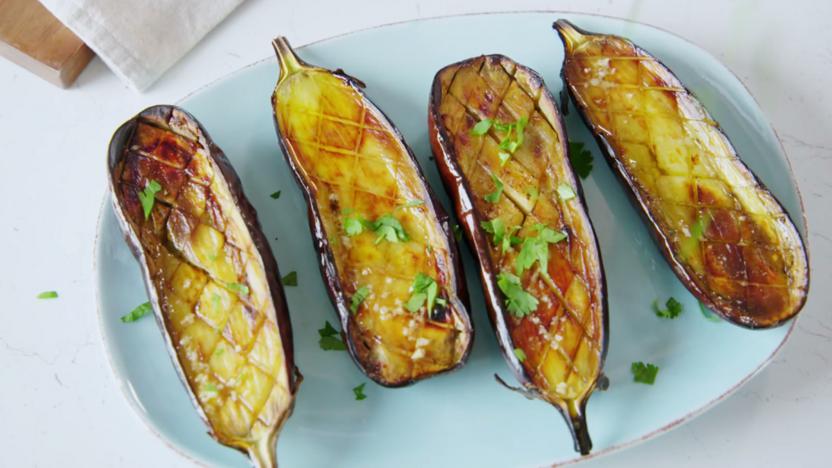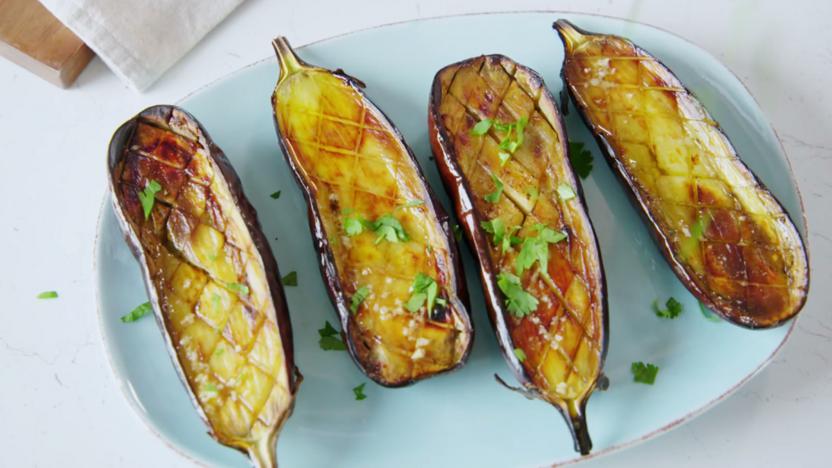 Learn how to cook aubergines in three delicious ways. Try these easy, quick recipes for roast aubergine, grilled aubergine and fried aubergine.
Ingredients
For the fried aubergine
For the grilled aubergine
For the roasted aubergine
Method
To make the fried aubergine, cut the stalks off the aubergines and cut into 1cm/½in slices. Brush each aubergine slice with olive oil on both sides and season with salt and pepper.

Heat 1 tablespoon of olive oil in a frying pan over a medium–high heat. Add the aubergine and fry in batches for 3–5 minutes on each side, until golden brown. If the pan is looking dry, add more oil.

Remove from the pan and drain on kitchen paper to remove any excess oil. Scatter with parsley and drizzle with Greek yoghurt, if using.

To make the grilled aubergine, preheat the grill to its highest setting. Cut the aubergines in half lengthways, leaving the stalks intact. Score the flesh with a knife to make a criss-cross pattern. Brush the flesh side with 2 tablespoons of olive oil and season with salt and pepper.

Put the aubergines, flesh-side down, in a grill pan or baking tray and grill for 10–12 minutes, until leathery and soft. Turn the aubergines over and grill for a further 5 minutes.

Meanwhile, mix 2 tablespoons of olive oil with the lemon juice and garlic. Remove the aubergine from the grill and brush with the olive oil and lemon mixture and scatter with parsley, if using.

To make the roasted aubergine, preheat the oven to 200C/180C Fan/Gas 6. Cut the stalks off the aubergines, then cut each aubergine in half lengthways and then into wedges.

Arrange the wedges on a baking sheet. Mix the olive oil and soy sauce together and pour over the wedges. Toss together with your hands, until they are well coated.

Roast for 20 minutes, then carefully turn over the aubergine wedges and roast for a further 10–15 minutes, until soft and golden. Sprinkle over the chilli and sesame seeds, if using. Serve immediately.
Recipe Tips
If you would like to make baba ganoush, you can use the flesh from the grilled aubergine recipe. Simply wait for it to cool, then scoop it out.