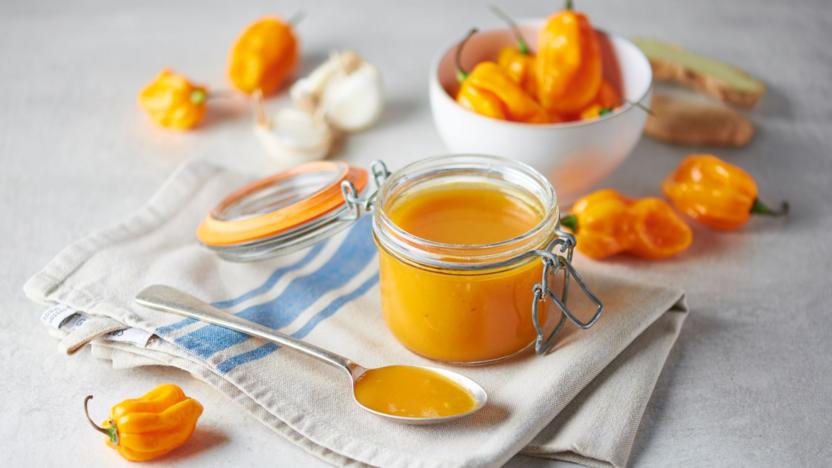 I like to make this sauce a vibrant yellow colour instead of the traditional red, which can be achieved with yellow devil's tongue, habanero or scotch bonnet chillies. Of course, if you can't get yellow chillies this works just as well with the more widely available red varieties.
Method
Always wear gloves when preparing chillies. Once you have removed them, wash your hands a couple of times before touching anything else. Put on your gloves and remove the green stalks from the chillies.

Put the chillies, carrot, onion, garlic and ginger into a food processor and blend.

Heat the rapeseed oil in a saucepan on a medium heat, then add the blended ingredients. Cook for 5 minutes, then add all the remaining ingredients along with 200ml/⅓ pint of water. Reduce the liquid by half on a high heat.

Once the volume of sauce has halved, turn the heat down low and cook for 30 minutes, stirring regularly.

Leave the sauce to cool for 10 minutes, then if the mixture is a little thick add a touch more water. Transfer the sauce back into the food processor and blend for 8-10 minutes.

For a smoother sauce, press the blended mixture through a sieve. Store the hot sauce in the fridge for up to 2 months.