Savoury hot cross bun strata
Resurrect hot cross buns that have gone past their best with this innovative strata dish – a layered casserole made with eggs (not Easter ones!), bread and cheese.



Method
Preheat the oven to 170C/150C Fan/Gas 3.

Place the garlic, peppercorns, bay leaf, thyme, milk, cream and bacon rind into a large saucepan and bring to a simmer, then turn off the heat and allow to infuse for at least 30 minutes.

Crack the eggs into a large mixing bowl and beat together. Strain the milk and cream mixture and allow to cool slightly, then whisk the milk mixture into the eggs. Add half of the Parmesan cheese and combine.

Lay the bottom halves of the hot cross buns in a deep roasting tray. Sprinkle over the grated Gruyère. Pour the egg mixture all over the buns.

Wrap the top half of each bun with a sage leaf and two thin pieces of streaky bacon, to mark where the cross is. Brush with a little maple syrup and place on top of the hot cross bun bottoms in the roasting tray. Push them down lightly to soak up some of the liquid. Sprinkle over the rest of the Parmesan.

Bake the strata in the oven for 20–30 minutes, or until the egg mixture has set. Remove from the oven and allow to come to room temperature before serving. You can leave them whole or slice them to serve.
This recipe is from...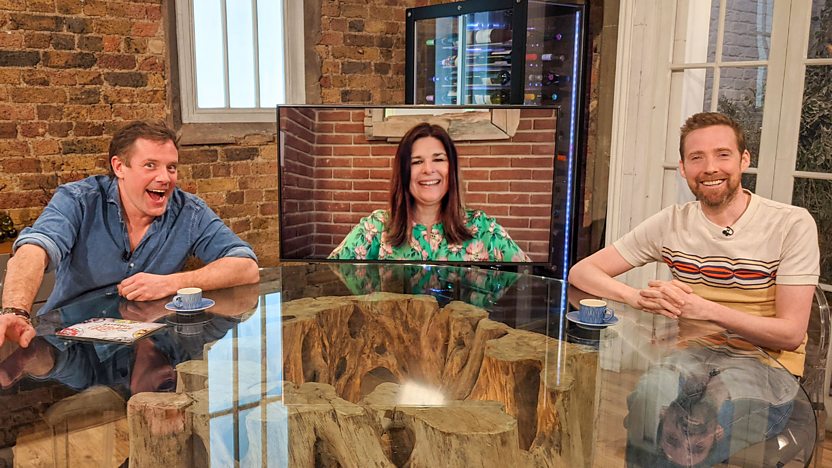 Saturday Kitchen
27/03/2021