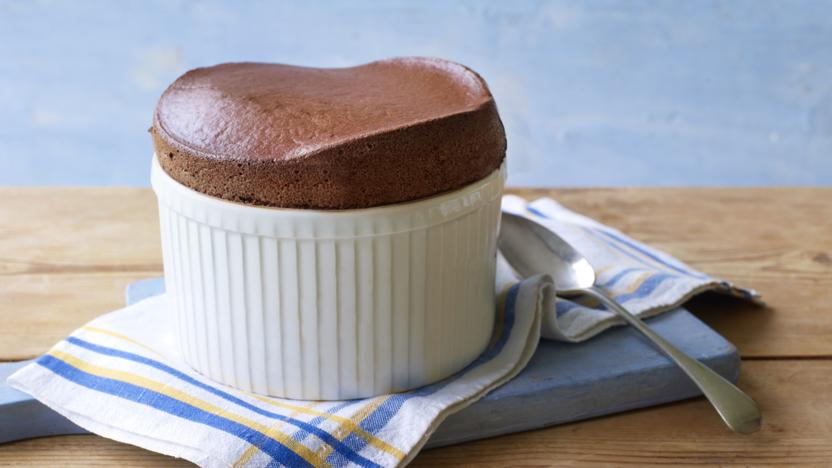 Making soufflés is easy when you have Mary to guide you - and this huge chocolate version is a sure fire hit.
Ingredients
For the crème pâtissière chocolat
For the meringue
Method
Preheat the oven to 190C/170C Fan/Gas 5. Place a heavy baking tray on the middle shelf of the oven.

Grease a 14x8cm (1.2 litre/2 pint) soufflé dish with butter and dust with caster sugar. Make a collar for the soufflé dish by folding a 50x30cm/20x12in piece of baking parchment 4 times lengthways (to make a 7½cm/3in deep collar). Wrap it around the top of the dish and secure with string.

For the crème pâtissière chocolat, melt the chocolate in a bowl set over a pan of simmering water. Remove from the heat and leave to cool slightly.

Pour the milk and cocoa powder into a heavy-based pan and bring gradually to the boil. Remove from the heat and leave to cool for 30 seconds. Meanwhile, in a medium bowl, whisk together the egg yolks and caster sugar until pale, then whisk in the plain flour. Pour the chocolate milk onto the eggs, whisking continuously, then pour back into the pan.

Bring back to the boil, whisking continuously over a medium heat and cook for 1 minute until thickened. Remove from the heat and whisk in the melted chocolate. Spoon the crème pâtissière chocolat into a bowl, cover the surface with cling film to prevent a skin forming and leave to cool to room temperature.

In a clean bowl whisk the egg whites to soft peaks. Add the sugar and continue whisking to a stiff and glossy meringue.

Whisk one third of the meringue mixture into the crème patissiere chocolat, then fold in the remaining two-thirds using a large metal spoon. The mixture should be fairly loose.

Pour the mixture into the souffle dish. Run your thumb around the interior rim of the dish to ensure a good rise. Bake on the preheated baking tray for 40-50 minutes, or until well risen and springy to touch.
Recipe Tips
It's not always necessary to use a collar (none was used in the image you can see above), but it can be useful, especially if you are worried about spills or the finished souffle leaning to one side.
This recipe is from...
Recipes from this episode