Pressure cooker honey roast ham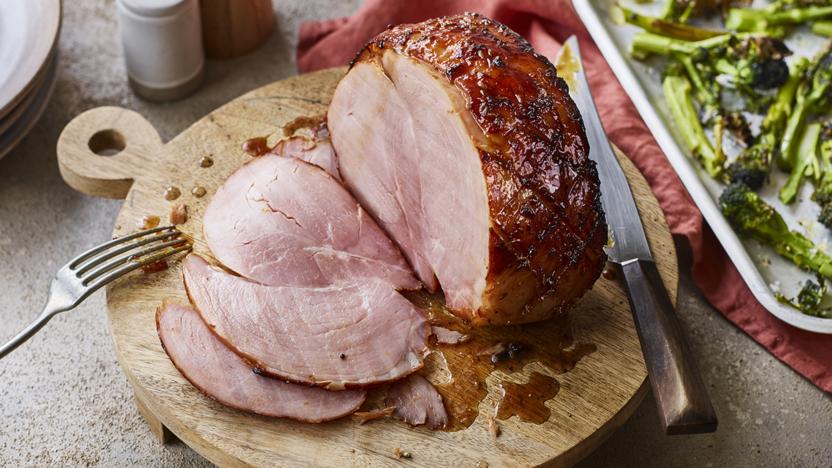 The deep caramel flavour of the marinade contrasts beautifully with the salty ham. Using a pressure cooker keeps the ham moist and succulent, and finishing it in the oven gives it a lovely shiny glaze. Roasted broccoli makes a simple, nutritious accompaniment.
Method
Using a sharp knife, score a criss-cross pattern in the ham fat, cutting lines about 2.5cm/1in deep and 2cm/¾ in apart.

In a small bowl or jug, stir together the sugar, orange juice and zest and honey until the sugar is dissolved. Add the cloves, fennel seeds and black pepper.

Sit the ham on a double layer of foil and lift the sides to create a shallow foil bowl. Pour the honey mixture over the ham and wrap tightly; you may need to use a third piece of foil to cover the whole ham. Sit the wrapped ham on a trivet in the pressure cooker and add 500ml/18fl oz water – the ham should be raised from the bottom of the pan and not submerged in water. Fix the lid on the pressure cooker and place over a high heat until it reaches pressure. Reduce the heat to low and cook for 45 minutes for a 1.4kg/3lb 2oz ham (30 minutes per kg). (If using an electric pressure cooker, use the high pressure setting for 45 minutes.)

Remove the pressure cooker from the heat and leave to depressurise.

Preheat the oven to 200C/180C Fan/Gas 6.

Carefully remove the ham from the pan and let it cool slightly before removing the hot foil. (CAUTION: hot steam can burn.) Lift the ham from the foil onto a deep baking tray and pour over the marinade.

Put the broccoli on a baking tray, add the olive oil and stir to mix. Put the broccoli into the oven. At the same time, put the ham in the centre of the oven and bake for 20 minutes, basting every 5 minutes, until the ham is well glazed. Serve hot.