Honey glazed lamb and celeriac mash
Preparation time
less than 30 mins
Lamb reared on salt marshes has a unique flavour much celebrated by chefs. Here it's cooked low and slow for the most tender meat.
Preparation time
less than 30 mins
Ingredients
For the lamb
For the celeriac mash
Method
For the lamb, preheat the oven to 140C/275F/Gas 1.

Place the spring onions, chopped tomatoes, chives, mint and oregano in a deep roasting tin. Place the lamb on top and drizzle with olive oil and the white wine. Season to taste with salt and freshly ground black pepper. Cover tightly with aluminum foil.

Place in the oven and cook for 3-4 hours, or until the meat is very tender. Once cooked, remove the lamb from the tin and set aside to cool. Leave the vegetables and herbs in the tray to cool.

For the celeriac mash, bring a pan of salted water to the boil. Add the potatoes and celeriac and cook for 15-20 minutes, or until tender. Drain and mash until smooth using a potato ricer or masher. Add the butter and cheese, season with salt and freshly ground black pepper, then whisk in a splash of cream. Grate in a pinch of nutmeg. Set aside somewhere warm until ready to serve.

Preheat the oven to 180C/350F/Gas 4.

For the lamb, make a sauce. Remove most of the herbs from the bottom of the roasting tin. Place the remaining contents of the roasting tin in a blender, scraping off any bits from the bottom of the tin. Blend to a purée and keep warm.

Mix the honey and three quarters of the thyme together. Brush over the lamb. Cut the lamb into bite-sized pieces and sprinkle over a little more thyme. Place on a baking tray and cook in the hot oven for 10 minutes, or until golden-brown.

To serve, reheat the sauce and mash (if necessary). Place a scoop of mash on each plate and top with the lamb. Drizzle the sauce over.
Related Recipes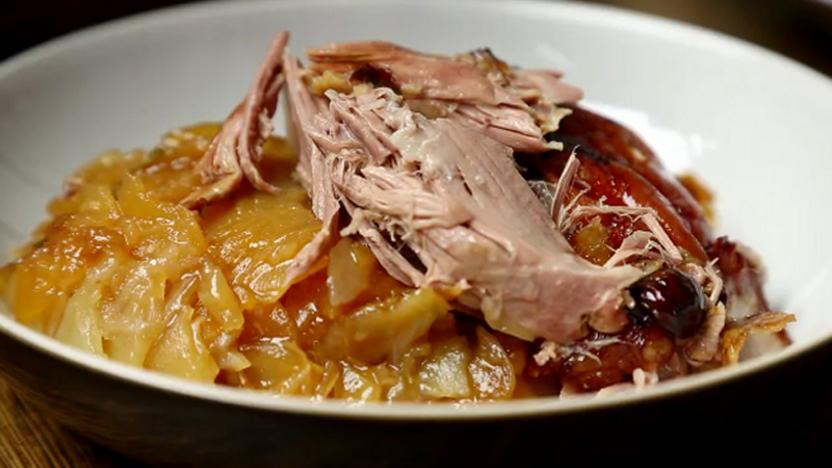 See more roast lamb recipes (70)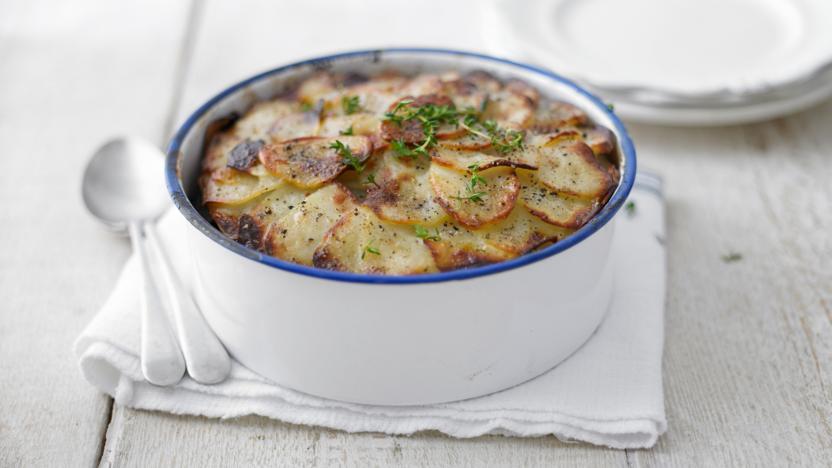 See more lamb recipes (154)
This recipe is from...
Recipes from this episode