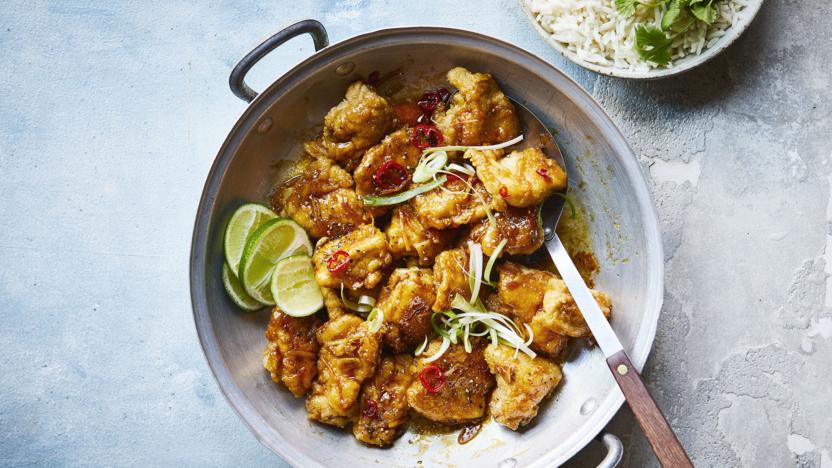 This sticky, crunchy, just spicy enough Chinese-style honey chilli chicken is quicker, tastier and healthier than anything you could order from the takeaway.
Ingredients
For the honey chilli chicken
For the sauce
Method
Make the sauce by whisking together all the ingredients along with 4 tablespoons cold water. Set aside.

In a medium bowl, toss the chicken pieces with the vegetable oil and sea salt. Stir the egg into the chicken, then add the flour and the cornflour and stir with a metal spoon until the chicken is well coated.

Heat enough oil to just cover the bottom of a large wok or frying pan over a medium-high heat. Once the oil is shimmering, add the chicken pieces in batches and fry for a few minutes on each side until golden. Set the chicken aside to drain on a plate lined with kitchen paper.

Discard all the oil in the pan and carefully wipe it clean with another piece of kitchen paper. Return the pan to a medium heat and gently fry the garlic, ginger and chilli in a teaspoon of oil for about a minute until fragrant. Return the chicken to the pan and stir in the sauce. Bring the sauce to a simmer and allow it to bubble away for a minute or so until it has thickened slightly and is coating the chicken.

Serve immediately, with the chopped spring onions sprinkled over the top.
Recipe Tips
This dish is delicious served over Jasmine rice with a side of steamed greens, like Tenderstem broccoli or pak choi.