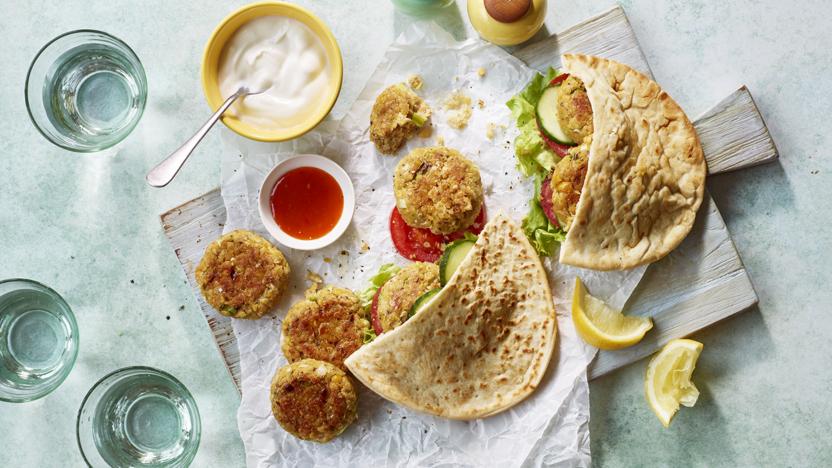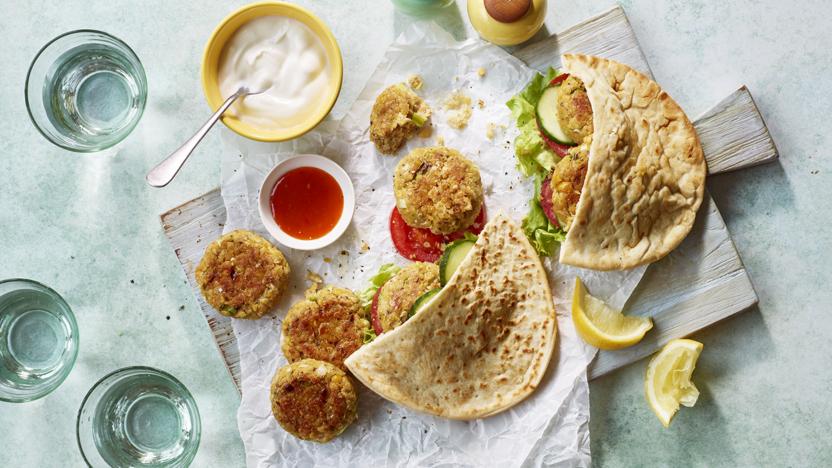 You can make these easy falafels in minutes for a delicious quick dinner. Top with chilli sauce, yoghurt, pickles or hummus to customise. It's a simplified falafel recipe for those on a budget with limited kit – it's so much cheaper than buying ready-made. See also our easy chickpea stew recipe and easy hummus recipe for more ways to shuzsh up that tin!


Ingredients
For the falafel
For the salad
To serve
Method
Put the chickpeas in a saucepan and mash with a potato masher until as smooth as possible. (If you have a non-stick pan, use a plastic masher to protect the coating.)

Add the spring onions, cumin, lemon zest, flour and salt. Season with lots of black pepper and mix well with a wooden spoon.

Using your hands, form the mixture into six equal-sized balls and flatten slightly.

Add 2 teaspoons of the oil to a frying pan over a low heat. Add the falafel and cook for 4 minutes. Flip onto the other side and add another 2 teaspoons of oil to the pan. Cook for a further 3–4 minutes, or until golden brown and crisp on both sides.

Meanwhile put the cucumber, tomato and lettuce in a large bowl. Squeeze the juice of half the lemon into a small bowl, add a pinch of salt and pepper and using a fork whisk together with the olive oil to make a dressing. Pour over the salad and mix well.

Lightly toast the pitta breads then carefully slice open along one side using a sharp knife.

When ready to serve, arrange a little salad in each pitta, top with some of the falafels and add a squeeze of juice from the remaining lemon half. Add a spoonful of yoghurt, chilli sauce or hummus (or a bit of all three!) Serve with the remaining salad alongside.