Home-smoked trout with feta salad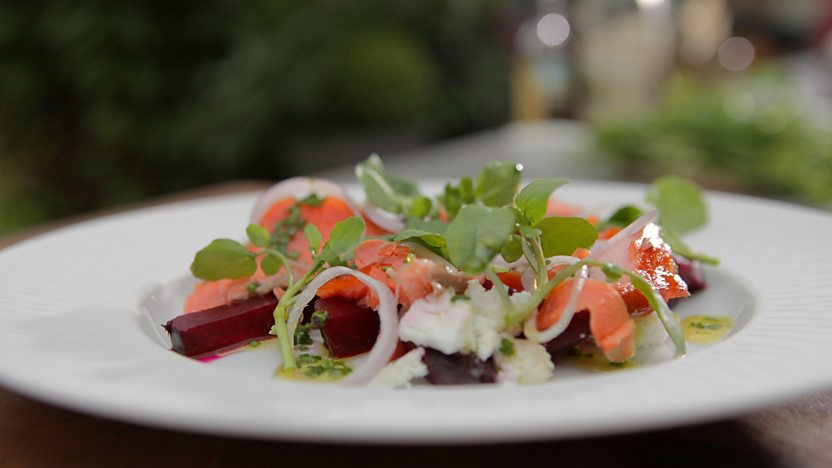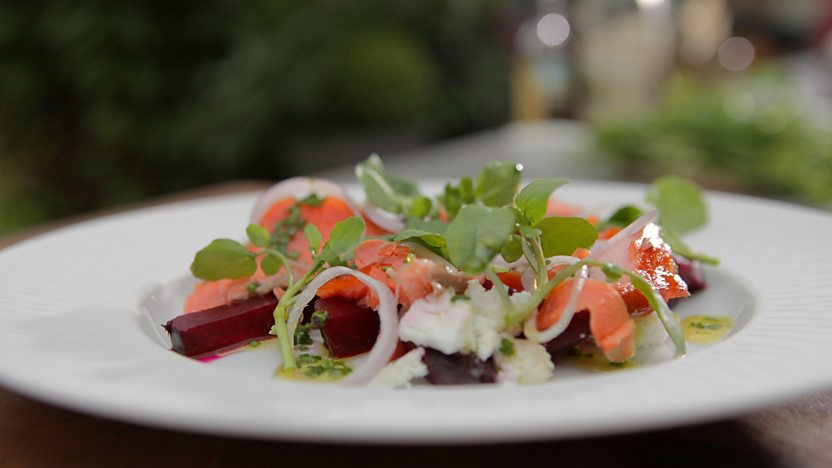 James Martin shows you how to home-smoke your own fish for a dinner-party reveal that is properly 'ta-dah!'

Equipment and preparation: for this recipe you will need a smoker and oak chips.
Method
Mix the sugar and sea salt together in a bowl. Divide the mixture into four equal portions.

Place a large piece of cling film on a clean work surface. Place another piece on top. Sprinkle one portion of the salt and sugar mixture in a line across the centre of the cling film. Place one of the trout fillets, skin-side down, on the line of sugar and salt.

Sprinkle another portion of the salt and sugar mixture all over the fillet, then wrap in the cling film.

Repeat the process with the remaining trout fillet. Chill the fish in the fridge for 12-24 hours.

When the trout has cured, remove the cling film and brush off the salt and sugar mixture. Rinse the fish thoroughly under cold running water, then pat dry with kitchen paper.

Place a generous handful of oak chips in a smoker. Light the wood chips and drizzle with a little water.

When the wood chips are smouldering, lay the trout fillets, skin-side down, in the centre of the grate. Cover with the lid and smoke for 1-1½ hours, checking the chips regularly to make sure they are not burning. (CAUTION: Food-smoking generates a great deal of smoke. Cook in a well-ventilated place and open the windows.)

When the trout has smoked, remove from the smoker and set aside to cool.

Meanwhile, whisk the balsamic vinegar and olive oil together in a bowl. Season, to taste, with salt and freshly ground black pepper.

Arrange the shallot rings, beetroot and feta on a large serving platter. Flake the smoked trout over the top. Garnish with watercress leaves, then drizzle over the dressing.
Recipe Tips
Tip 1: If you prefer, you can buy two large trout fillets instead of preparing your own trout.
Tip 2: You can use a lidded kettle barbecue to smoke meat by lining the bottom with aluminium foil and throwing in a handful of wood chips. Light three candles and place them under the belly of the barbecue. Drizzle the chips with a little water, then put the cooking grill grate into place and cover with the lid.