Holstein steak with spinach and wheatgrass
Protein-packed steak is served with nutrient-rich spinach and wheatgrass accompaniments.
Ingredients
For the spinach juice
For the wheatgrass emulsion
For the steak
280g/10oz Holstein sirloin or rib-eye steak
100g/3½oz beef fat
50g/1¾oz bone marrow, soaked in salt water and diced
20 fresh wheatgrass blades, finely chopped, plus 30 blades to garnish
1 tsp fermented wheatgrass
Method
To make the spinach juice, cook the spinach in a saucepan of boiling water for 5 minutes and then refresh in iced water. Squeeze out all the excess water, place in the blender and blend to a thick consistency, adding a tablespoon or two of water if needed. Remove the purée, setting aside 10g of purée in a small bowl. Store any remaining spinach purée in a sealed container in the fridge and use within 1 day.

Put the wheatgrass juice, vinegar and some salt into a blender. Add the 10g spinach purée and blend until incorporated. Leave to settle for 1 hour and skim any excess foam from the top.

To make the wheatgrass emulsion, place the chopped wheatgrass, wheatgrass juice, vinegar and Dijon mustard in a blender. Blend on high for 30 seconds then very gradually add the grapeseed oil as you would for mayonnaise, making sure each drop is incorporated before adding more. Pass through a fine sieve.

To make the steak, heat a barbecue or grill to medium–hot. Brush the steak with some of the fat and then place the steak on the barbecue or grill, turning constantly to cook evenly all over. Test the beef with a meat thermometer – when it reads 52C, remove the steak from the heat. Baste with a little more fat and season with salt. Leave to rest.

Heat up the remaining beef fat in a saucepan and add the bone marrow. Cook the marrow in the fat for around 1–2 minutes, stirring carefully. Stir in the chopped wheatgrass and fermented wheatgrass. Season with salt.

Carve the beef into thick even slices and place on a serving platter. Spoon the wheatgrass emulsion around the beef and spoon the beef fat sauce over the beef. Garnish with the fresh wheatgrass blades and serve with the spinach juice.
This recipe is from...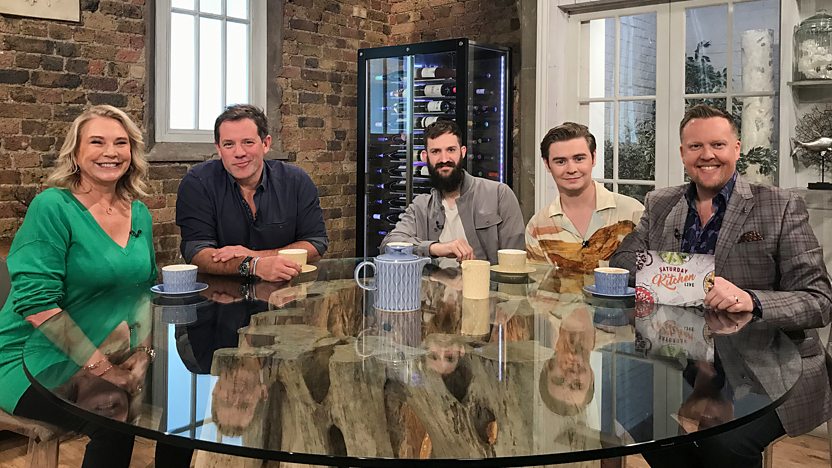 Saturday Kitchen
14/03/2020