Herby chicken and potato salad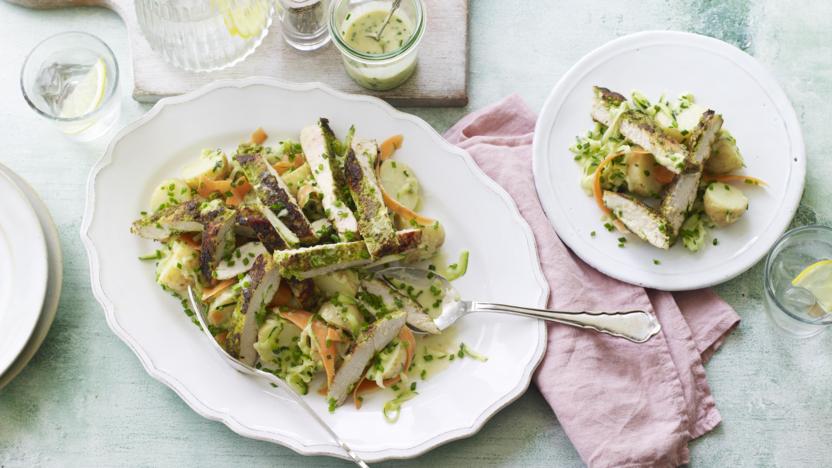 Skyr is an Icelandic yoghurt that is starting to appear in our supermarkets. It is good with chicken because it takes other flavours well and helps the meat get lovely and tender.
Ingredients
For the marinated chicken
For the salad
For the dressing
Method
To make the marinated chicken, cut down the centre of each breast lengthways, being careful not to cut all the way through. Open each breast up like a book and flatten using the palm of your hand.

Put the skyr or yoghurt, oil, parsley, ginger, lemon juice and some salt and pepper in a food processor and blend until smooth.

Put the butterflied chicken breasts in a freezer bag and add the marinade, mixing well to cover the chicken. Seal and chill in the fridge.

Meanwhile, to make the salad, boil the potatoes for 15 minutes, or until tender, and drain. Cover with cold water and set aside to cool.

To make the dressing, whisk together the skyr or yoghurt, oil, mustard, 1 teaspoon of the vinegar and ½ teaspoon of the honey, along with a pinch of salt and pepper. If the mixture is a little thick, add a tablespoon of water at a time until the desired consistency is reached. Stir in the chives and adjust the seasoning, or add a little more vinegar and/or honey if needed.

Halve the cooled potatoes and toss with a little of the dressing in a bowl, until coated. Put the courgette and carrot in a serving bowl and add dressed potatoes.

Heat a dash of oil in a large, heavy-based frying pan over a medium–high heat. Shake off the excess marinade and cook the chicken, opened out, for 4 minutes on either side, or until cooked through. Reduce the heat if it is browning too much.

Slice the chicken and place on top of the salad. Drizzle over the rest of the dressing, garnish with more chopped chives and serve.
This recipe is from...
Recipes from this episode