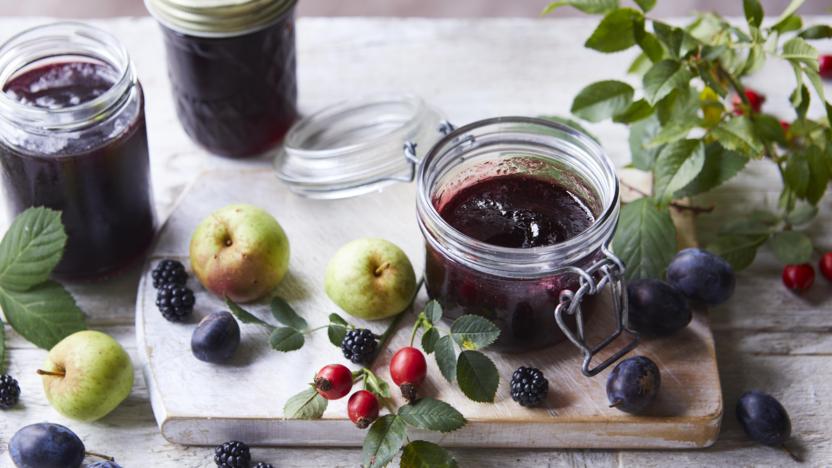 The late summer and early autumn hedgerow provides lots of great produce, including blackberries, sloes, damsons, rose hips, haws, elderberries, rowan berries and crab apples. These small apples are prized by jam makers for their pectin and bright acidity. This recipe, because the fruit is strained, does not require laborious stoning, peeling or coring.


Ingredients
750g/1lb 10oz crab apples
750g/1lb 10oz mixed hedgerow fruits (such as blackberries, sloes, bullaces, damsons, rose hips, haws, elderberries), leaves and stalks removed
600g–700g/1lb 5oz–1lb 9oz granulated sugar
Method
Rinse the crab apples in cold water, removing any stalks or leafy bits – there's no need to peel or core the apples, just chop them roughly. Place the crab apples and berries in a large saucepan with approximately 1 litre/1¾ pints water or just enough to cover the fruit. Bring to the boil, then simmer until all of the fruit is soft and pulpy, crushing it every so often with a potato masher or spoon to help break down the fibres. Remove from the heat.

Strain the cooked fruit though a jelly bag or muslin-lined sieve set over a large bowl – press lightly on the surface to push the juice, leaving the fruit fibres in the muslin. Leave to drip through for several hours or overnight. To speed things up, place a small saucer on the surface of the fruit with a weight on top – a sealed jam jar full of water works well.

Measure the juice (it will be approximately 1 litre/1¾ pints). For every litre of juice, weigh out 650g/1lb 7oz granulated sugar. Pour the juice into a clean saucepan and bring to a simmer. Add the sugar, a third at a time, and stir until dissolved. Increase the heat and bring to a rapid boil for 9–10 minutes or until the setting point is reached (see tips). Remove from the heat.

Leave to rest for a few minutes, then tip into a jug with a good pouring lip. If a skin has formed, carefully remove with a slotted spoon or jam skimmer. Fill the sterilised jars to the brim and seal immediately with the lids. Store in a cool, dark place for up to 1 year. Keep in the fridge once opened and use within 3–4 months.
Recipe Tips
Bearing in mind the berries bring the flavour in this recipe and the crab apples bring an amazing gelling quality, use a mix of roughly 40–50 per cent crab apples to berries. If you can't find crab apples, replace with some sharp cooking apples. Make a quick note of what ingredients are used because, if you produce an absolute winner, you can recreate it another year.
The setting point gel test is traditionally known as the 'wrinkle' test but I prefer to call it the gel test because at this point it should look like a light gel, rather than a strong wrinkle. Remember jam should set in the jar and not in the pan! You will know when the jam or jelly is nearly ready because the loose, light-coloured bubbles on the surface will have almost disappeared to reveal a glossy surface, and the boil will be slower and more rhythmic. When it gets to this stage, remove the pan from the heat – the preserve will continue to cook so it is important to do this – and drop a little of the hot preserve on a cold plate or stainless steel spoon. Leave to one side or pop in the fridge for a minute or so to cool. Lightly push with a finger to see if the jam comes together in a small gel that holds its shape and is not too runny. Any gel should be light, delicate and not too sticky. If the mixture remains runny, return the pan to the heat for a couple more minutes and then test again.
You can add a few cloves, cinnamon sticks, star anise or other warming spices when the fruit is being cooked, if you like.