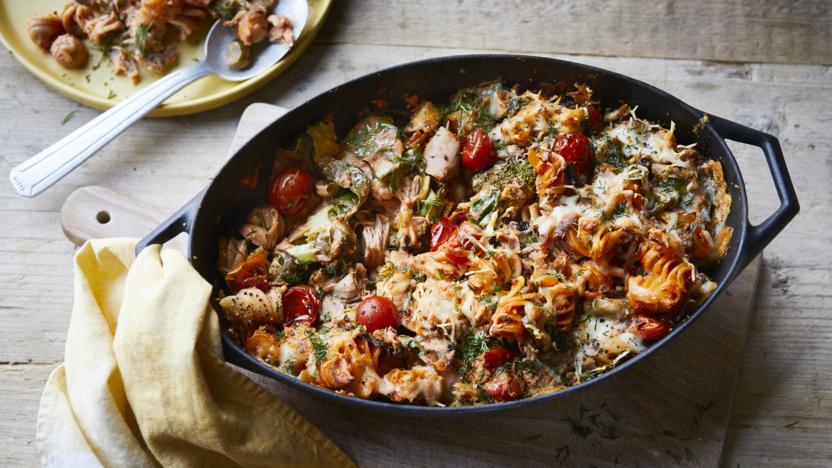 With its rich sauce and cheese topping, you'd never guess this was a healthy tuna pasta bake, but it's packed full of veggies and is perfect for a hearty midweek family meal.

Each serving provides 363 kcal, 28.5g protein, 38.5g carbohydrates (of which 10.5g sugars), 8.5g fat (of which 4.5g saturates), 9g fibre and 1.7g salt.
Ingredients
1 vegetable stock cube
250g/9oz whole wheat pasta shapes, such as fusilli or penne
350g/12oz broccoli florets
50g/1¾oz baby spinach leaves
50g/1¾oz spring greens, shredded
1 tsp olive oil
1 large onion, roughly chopped
4 garlic cloves, crushed or finely chopped
1 tsp dried chilli flakes (optional)
500g carton passata with garlic and herbs
6 tbsp extra 'light' cream cheese
120g/4¼oz reduced-fat cheddar, grated
400g tin cherry tomatoes
2 x 145g tins tinned tuna in spring water, drained
1 tbsp sliced green jalapeño peppers in brine, drained and roughly chopped
small handful fresh dill, roughly chopped, plus extra to garnish
50g/1¾oz reduced-fat mozzarella, diced
salt and freshly ground black pepper
Method
Preheat the oven to 180C/160C Fan/Gas 4.

Bring a large saucepan of water to the boil. Add the stock cube and stir to dissolve. Add the pasta and cook according to the packet instructions, adding the broccoli to the pan for the last 4 minutes of cooking time. Drain, return to the pan and stir in the spinach and spring greens. Cover and set aside.

Meanwhile, heat the oil in a saucepan. Add the onion, garlic and chilli and stir-fry over a medium heat for 4–5 minutes, or until just softened.

Place half the passata in a bowl with the cream cheese and whisk until fairly well combined. Stir into the drained pasta and vegetables.

Add in the onion and garlic mixture, the remaining passata, half the grated cheese, the tinned cherry tomatoes, tuna, jalapeños and dill. Season well.

Tip the mixture to an ovenproof dish (approx. 20 x 30cm/8 x 12in) and sprinkle over the remaining cheddar and the mozzarella. Bake for 20–30 minutes, or until the cheese has melted. Serve immediately, garnished with dill.