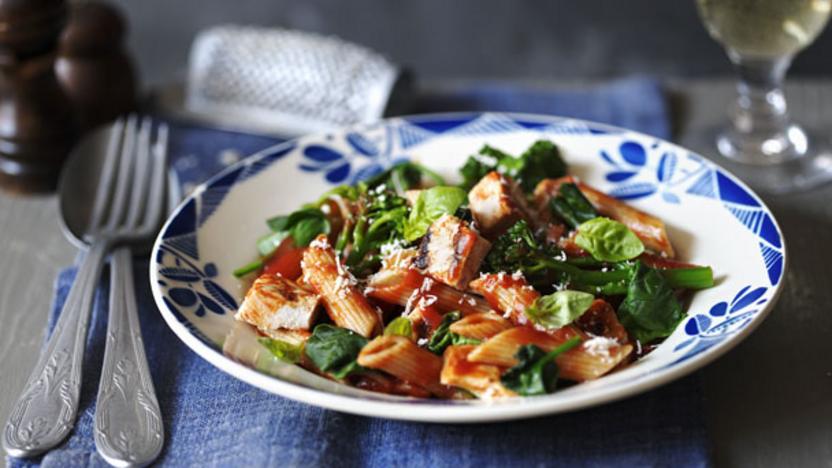 In this family-friendly healthy chicken pasta recipe, griddling chicken adds a great smoky flavour and it's a healthier way of cooking.

This meal is low calorie and if served as 3 portions provides 432 kcal, 36g protein, 49g carbohydrate (of which 7.5g sugars), 10.3g fat (of which 2.5g saturates), 12g fibre and 1.1g salt per portion.
Method
Carefully slice the breast almost in half horizontally, not quite cutting through to the other edge. Keep that edge intact and open up the breast like you are opening up a book. This will make the meat a uniform thickness to ensure quick and even cooking.

Heat a large saucepan over a medium–low heat. Add the olive oil to the pan. Once warm, add the garlic and chilli flakes and cook for 2 minutes, then stir in the tomato purée and cook for 2 more minutes. Add the passata to the pan, season with pepper, stir to mix well and reduce the heat to a gentle simmer. Leave to simmer gently while you prepare the rest of the dish.

Bring a large saucepan of salted water to the boil, add the pasta and cook according to the packet instructions. Add the broccoli 3 minutes before the end of cooking. Drain thoroughly.

Meanwhile heat a griddle pan over a high heat until smoking. Rub the chicken with a little oil and season with a tiny bit of salt and pepper then griddle for 3–5 minutes on each side. Set aside to rest for 5 minutes before slicing into bite-sized pieces.

Add the cooked pasta and broccoli to the pan with the tomato sauce (if the sauce has thickened too much while simmering then add a little hot water from the pasta). Stir to mix well and then add the griddled chicken, spinach and basil leaves (if using). Season again with plenty of black pepper and allow the spinach and basil to wilt. Sprinkle with Parmesan, if using, and serve.
Recipe Tips
Always use free-range chicken if you can. As well as it tasting better and being kinder to the chickens, it's naturally lower in fat than the meat on more intensively farmed birds.
It's also a common misconception that you have to use lots of oil when griddling meat; as long as the pan is hot enough, the chicken shouldn't stick.